5 min
read

Updated on 23rd August 2023
22th May 2023
22-05-2023
The UK eCommerce market is currently valued at £110 billion and is constantly growing, as more retailers than ever are selling online.
Amazon is the largest eCommerce marketplace not only in the UK but worldwide. Advertising your products on Amazon can help you reach a broader audience and get more sales.
Here is a complete guide to using Amazon PPC ads to sell more effectively.
What is Amazon PPC?
Amazon pay-per-click (PPC) is an advertising model that allows you to show advertisements on Amazon and pay for every registered click. Amazon PPC works similarly to Google PPC ads. It's an intent-based search engine platform that specialises in selling items. Inherently, Amazon is second to none in terms of conversion rate. They charge you on a cost per click basis which is determined by you and your competitors.
Why is an Amazon PPC Strategy Important?
In addition to being the largest eCommerce marketplace, Amazon is the third-most-popular search engine in the world. Around 50% of shopping searches begin at Amazon compared to only 22% at Google.
When it comes to the UK eCommerce market, Amazon enjoys an unprecedented 15% market share by volume.
Therefore, running Amazon PPC ads can help you leverage the majority of eCommerce traffic on the internet.
3 reasons to use Amazon PPC
★ Amazon is a Massive Retailer with Millions of Products
Amazon lists more than 350 million products, and nine out of ten customers use Amazon to check the price of a product. By listing your product on Amazon, you can reach a massive consumer base and get more sales.
★ Help Customers Find Your Products
Amazon is noisy, as there are way too many products. It could be difficult for retailers to get their products in front of their target customers using organic techniques. Amazon PPC allows your customers to filter the noise and find your products. Hence, you can get an edge over other retailers competing for the same customers.
★ Launch New Products
If you're launching a new product, you'd want to get in front of as many customers as possible in less time. Amazon PPC helps you achieve that. With numerous targeting options, Amazon PPC enables you to reach a broader audience and get big sales for your new products.
How Does Amazon Paid Search Work?
If you want to run Amazon PPC ads, you need to understand how Amazon advertising and paid search work. For the most part, Amazon paid search works similarly to Google paid search. A user enters a query in the search field, and Amazon pulls up a list of organic results based on the phrase the user searched for. Amazon places a couple of sponsored ads above the organic results (just like Google), and other places.
However, Amazon paid search is different from Google search engine advertising in two ways:
All the results on Amazon, whether sponsored or organic, are products listed on Amazon, as opposed to blog posts, landing pages, etc., that appear on Google. Ads may lead to products or brand storefronts where all the products by a brand can be listed.

When users perform a search on Amazon, their intent is always to buy. They search for products they want to buy.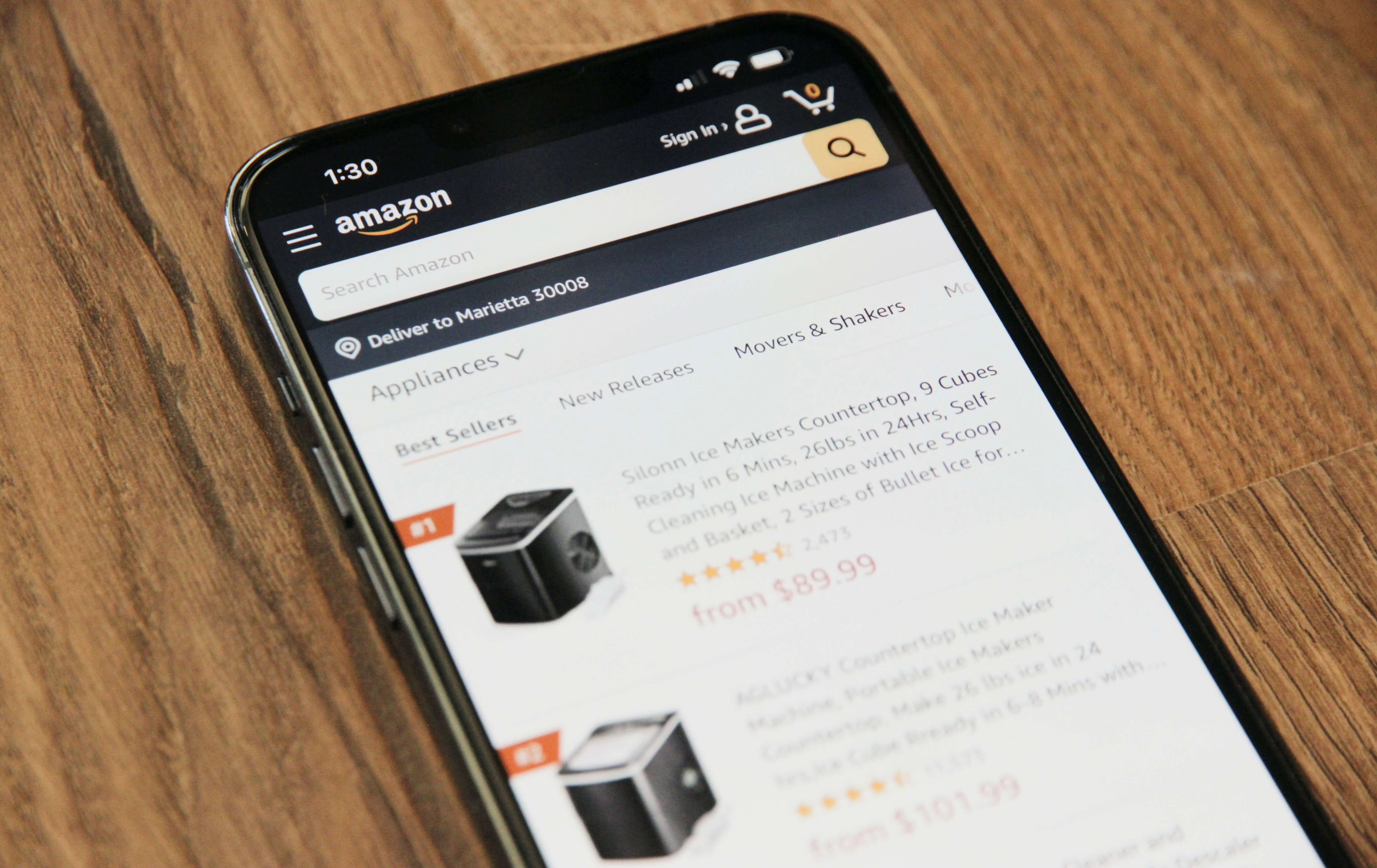 How Does Amazon PPC Auction Work?
Like any PPC network, Amazon PPC also has an auction process. You need to submit a bid and compete against other advertisers for ad spots. The advertiser with the highest bid wins the spot. Automatic targeting can make this simpler, but expert optimisation will produce better results.
However, the highest bid isn't necessarily the cost-per-click (CPC). The cost-per-click (CPC) for each ad impression Amazon is determined in a second-price auction. Each advertiser submits a bid (the maximum they are willing to pay per click) for their ad. The highest bidder wins the highest ad position (ad rank #1) and will also pay the highest CPC, but the highest bidder does not pay the amount they bid. The highest bidder pays some amount more than the second-highest bid.
Amazon PPC Ad Types
There are four types: Amazon Sponsored Products, Sponsored Display, and Sponsored Brands, and Sponsored Brands Video. Let's look at each ad type and how they work.
Sponsored Product Ads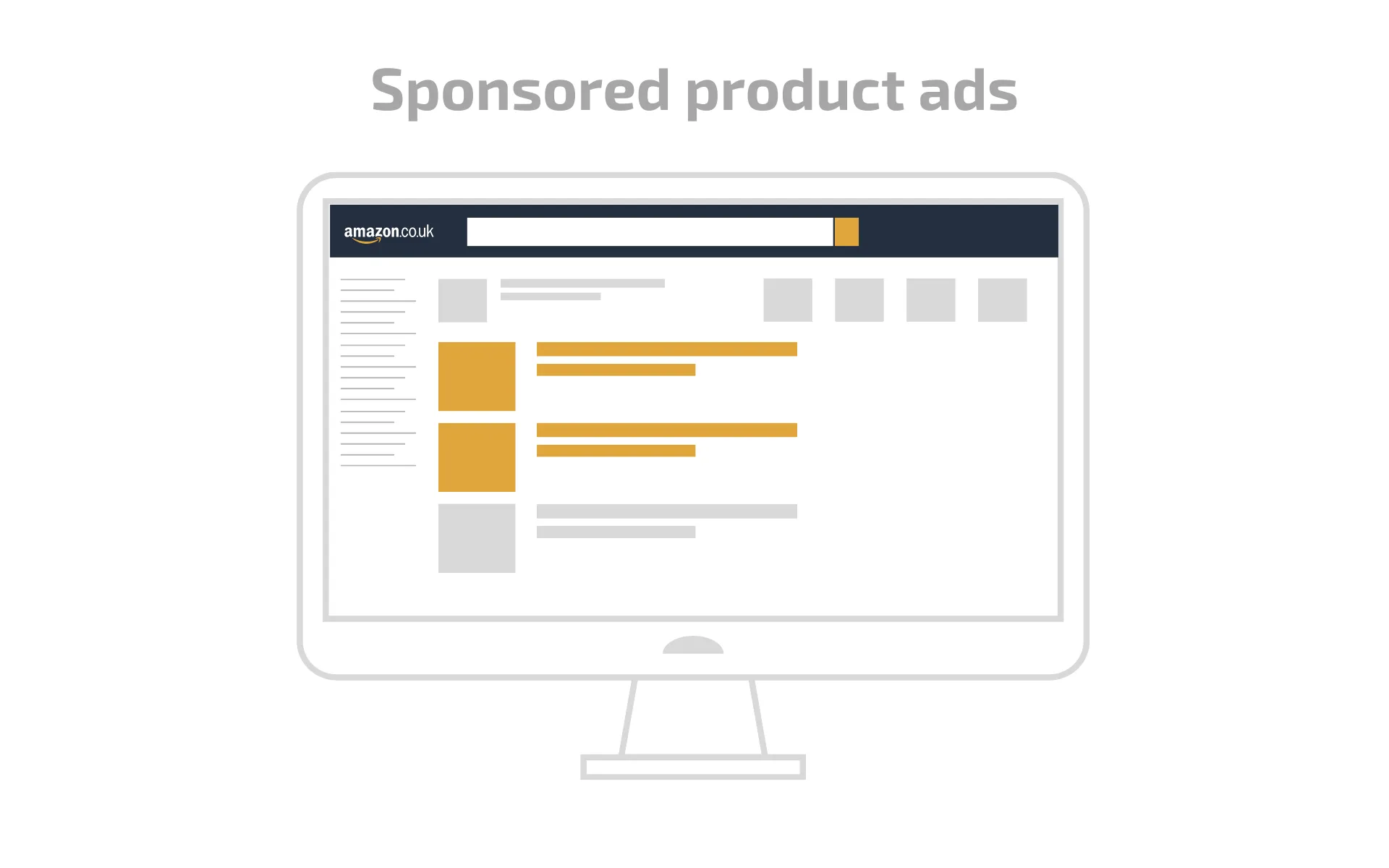 Sponsored product ads can be targeted using keywords, products, or by letting Amazon find the best customers for you. If you choose keyword targeting, you select keywords for which you want your ads to show up. They appear along with organic results. Sponsored product ads offer a better click-through rate (CTR) and conversion rate because they are highly specific and only appear when users search for them.
How to Create a Sponsored Product Ad
Setting up sponsored product ads is easy. Here is the outline of the four steps to take to get started:
Set your budget. Set a budget that fits your unique business needs.

Select Your Targeting Options. You can choose to target products or keywords. Alternatively, you could leave the entire process up to Amazon. They will match your ads to relevant search terms and products.

Pick Your Products. Decide which products you want to advertise. These will be what you build adverts around.

Launch Your Campaign. Once these choices have been made, you can launch your campaign and watch the sales roll in.
Sponsored Display Ads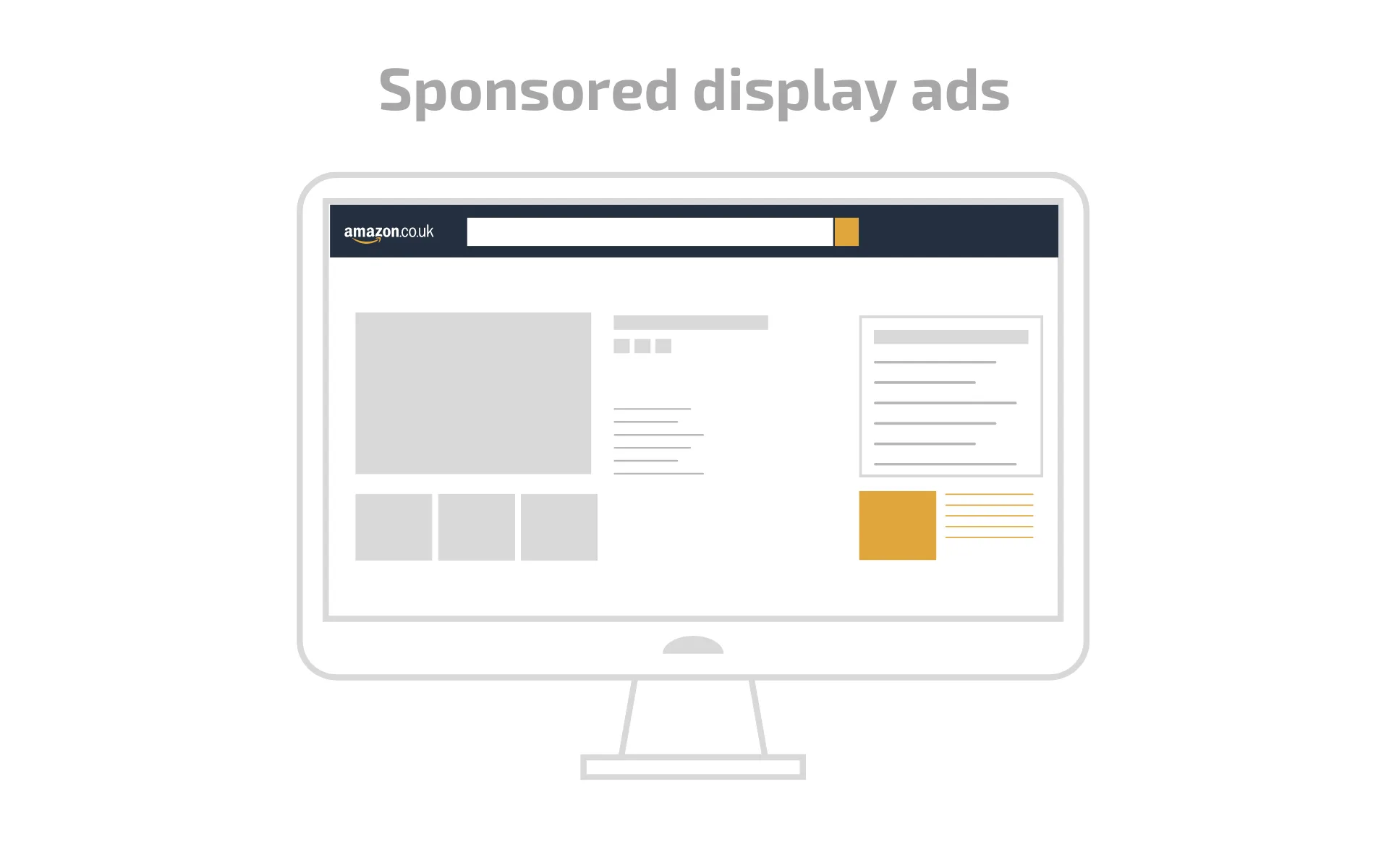 Sponsored Display ads engage audiences on or off Amazon. Unlike sponsored product ads that rely on keywords, Sponsored Display Ads allow you to reach customers based on their buying behaviour. As there is no user intent involved, these campaigns have a significantly lower conversion rate. Although, they are great for reaching users even outside Amazon.
Amazon allows advertisers to display ads on product pages, related categories, complementary listings, and related interests.
Sponsored Brands Ads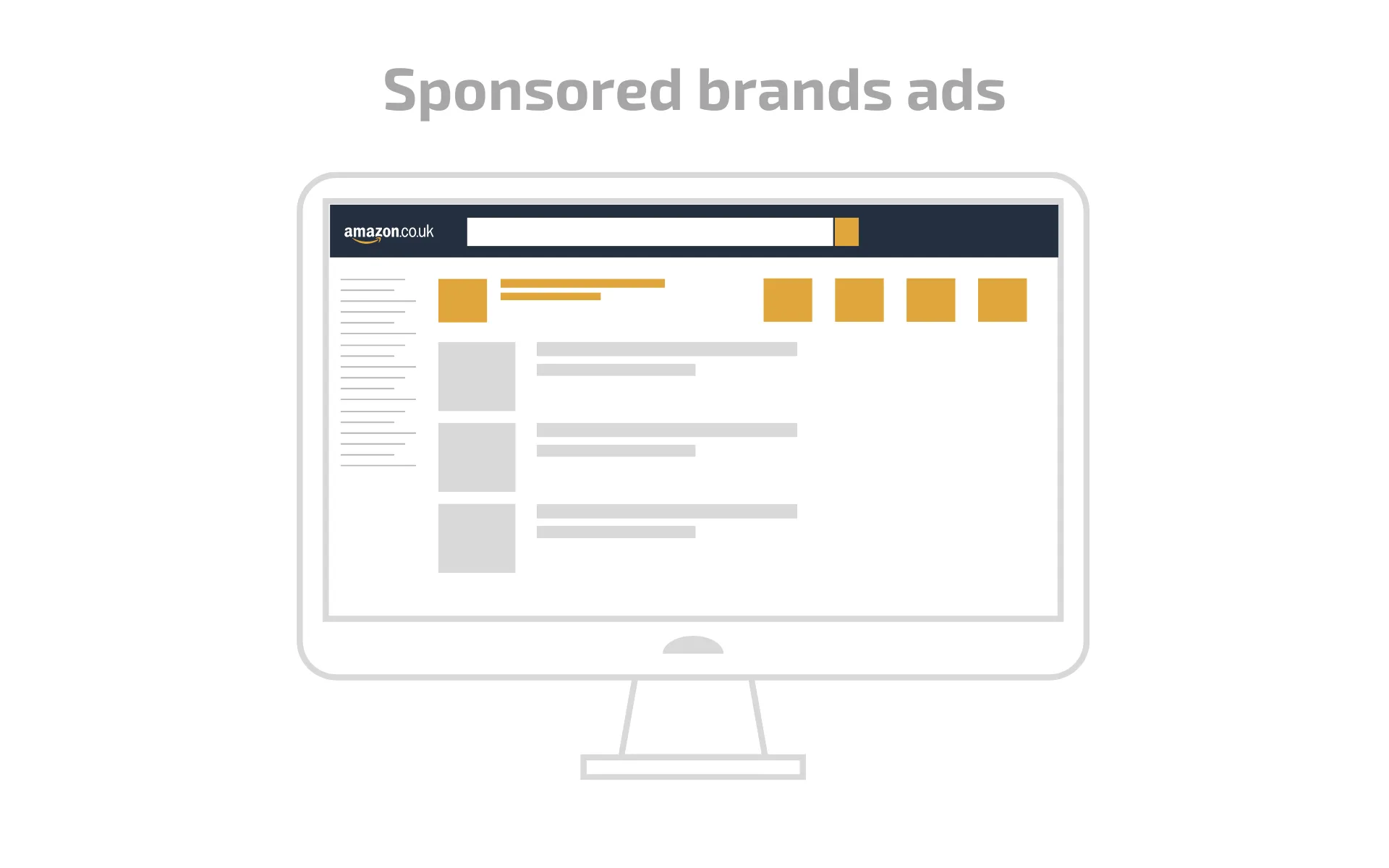 Sponsored Brands ads appear on the top of search results. These are banner ads used to encourage buyers to interact with a group of products. They can incorporate a custom lifestyle image and short ad copy. With Sponsored Brands ads, you can display multiple products with different ad copies and landing pages of your storefront.
Please note that Amazon PPC ad types can differ greatly in impressions, CTR, and conversion rate. It's essential to consider the product type, target audience, and objectives before choosing an ad for your product. The best idea is to leverage as many ad types as possible.
Sponsored Brands Video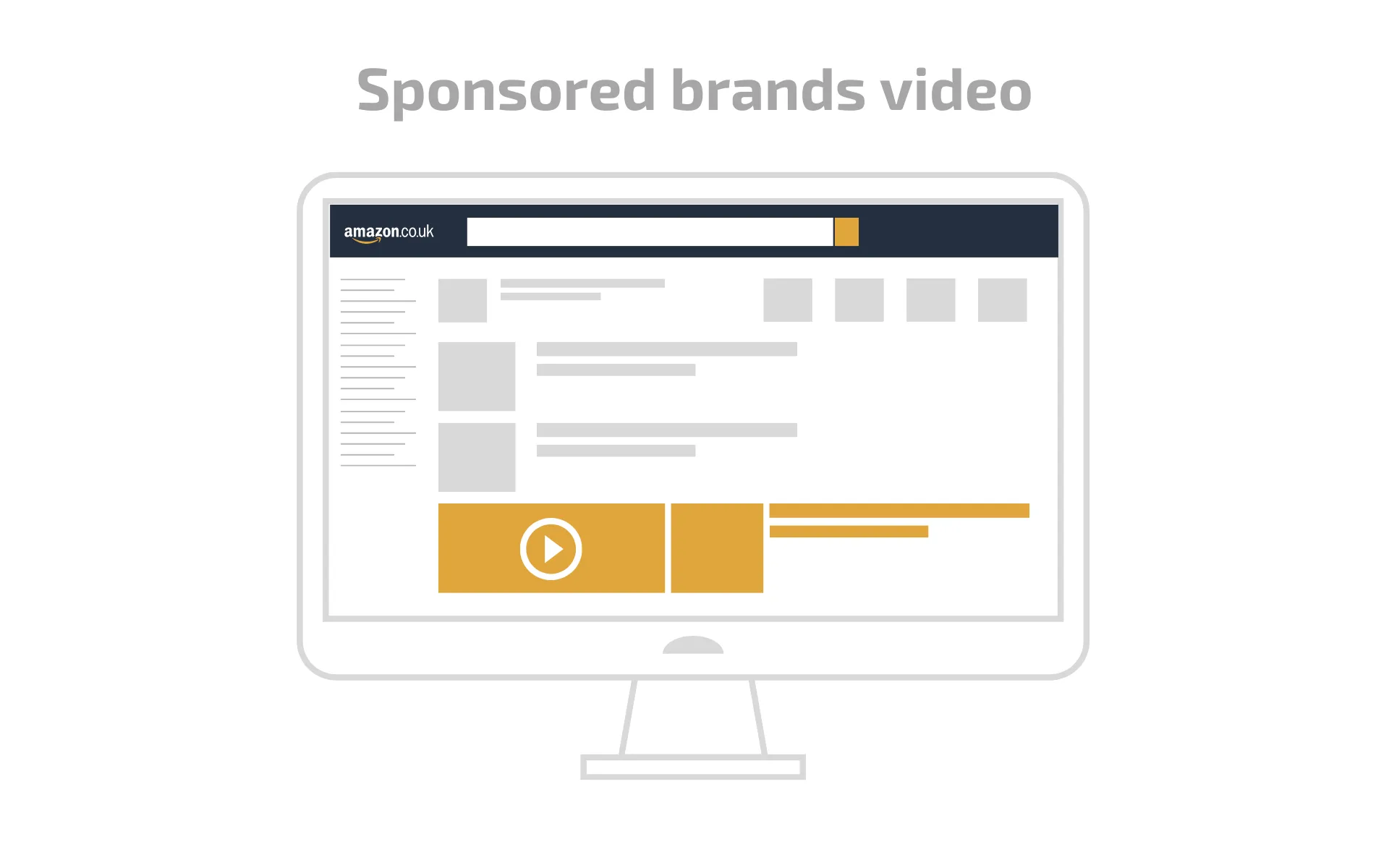 These are the newest addition to Amazon's advertising arsenal. These ads promote only a single product, unlike any other campaign type. From an ad estate perspective, these ads are the largest and most engaging. They take up so much of the search result pages that users will definitely focus on your message. Video ads are great for showing prospects the complexities and unique value your product brings.
How to Create Amazon PPC Ads
Let's create a high-level overview of how you can create your own Amazon ad.
Create an Amazon seller account if you don't have one already.

Choose an Amazon PPC ad type that suits your goals and budget. There are three main types: Sponsored Products, Sponsored Brands, and Sponsored Display.

Select the products or brand that you want to advertise.

Set a daily budget and duration for your campaign.

Choose a bidding strategy for your ads. You can either use manual CPC bidding, where you set your own bids for each keyword or product, or automatic CPC bidding, where Amazon sets the bids for you based on your target cost-per-click (CPC).

Research and select relevant keywords for your ads. You can use Amazon's keyword tool or other third-party tools to find high-volume and low-competition keywords that match your products or brand.

Create compelling ad copy and images that showcase the benefits and features of your products or brand. You can also use Amazon's creative builder to design your ads.

Launch your campaign and monitor its performance using Amazon's reporting tools or other analytics tools.

Optimize your campaign by adjusting your bids, keywords, budget, and ad creative based on the data and feedback you receive.
There is a lot more to say along with these instructions, but this should give you a good overview of the steps you'll need to take.
Overview of Amazon Keywords and Match Types
When setting up an Amazon PPC ad, you need to specify the keywords you want the ad to show up for. Keywords can either be a single word like "shoes" or a phrase like "sports shoes for kids."
Amazon also allows you to select the keyword match type. Three keyword match types are available on Amazon:
Exact Match: Your ads will show up if a user searches for the exact same term that you are targeting. Spelling mistakes and plurals are exceptions.

Phrase Match: Your ads will show up if the term entered by the user contains your keyword phrase without being broken up.

Broad Match: Your ads will show up if the term entered by the user contains all words from your target keyword in any order.
Remember that keyword research is the cornerstone of successful advertising. The clicks and conversions your product gets will depend largely on the keywords you select.
First of all, find the best Amazon keyword research tool for your research process to explore historical keyword and sales data.
How to Use Negative Keywords to Get Better Results?
You can further enhance the performance of your advertising campaigns by choosing negative keywords. These are the keywords for which you don't want your ad to appear. By specifying negative keywords, you can prevent your ad from showing up in irrelevant search queries.
For example, if you want your products to appear for the search query "best smartphones" but not for "best smartphones under £399," you can use negative keywords to filter out searches.
Negative keywords are available in two match types: exact and phrase. You can also select specific brand names or ASINs for which you don't want your product to appear.
How Does Amazon Match Keywords and Products for PPC?
When sellers list products on Amazon, they include keywords in product headings and descriptions for which they want their products to appear. When a user enters a phrase in search, Amazon pulls up all the products with that keyword or similar keywords. The ranking of products depends on how well the seller has optimised their listing. There may be more ranking factors as part of Amazon's internal algorithm, but these are not defined clearly enough to build a strategy around them.
For PPC, Amazon shows products in the sponsored ads section at the top of the organic results. The ads appear based on keyword relevance.
What Is an Amazon PPC Strategy?
Amazon PPC can go a long way in increasing your brand's visibility on Amazon and help you get more sales. However, with so many brands competing on Amazon, advertisers need a winning strategy to succeed with Amazon advertising and lower their advertising cost of sales.
Here is an effective, four-step Amazon PPC strategy to help you get started.
1. Experiment with Ad Types
Decide which of the three ad types you want to run. Your choice will depend on your goals and objectives.
2. Select a Listing to Run Your Ads
Next, you need to select the products you want to promote. You can take two approaches here. The first approach is to promote your best-selling products to increase your sales further. The second approach is to promote your less popular products and get them in front of more people.
3. Optimise Your Listings
Amazon ads can only help you bring potential customers to your product page. Whether or not the users will complete a purchase will depend on your product listing. Be sure to optimise your listings by including detailed descriptions, images, and reviews.
4. Analyse the Performance
The final step is to analyse how your ad campaigns are performing. Two important metrics you should track are:
Return on Ad Spend (ROAS) – Money earned for every dollar spent on advertising

Advertising Cost of Sales (ACoS) – Advertising cost for earning one dollar worth of sales
You can also separate your traffic from ads into prospecting (non-brand) advertising and remarketing (brand) advertising. This can help you set budgets for each aspect of outreach.
How do I Optimise PPC on Amazon?
Now that you have learned how Amazon PPC works, let's delve into some tips for optimising your ads for better results.
Why Should You Start With Sponsored Products?
PRO TIP

Sponsored product ads are the most viewed ads on Amazon, as they show up at various places, from search results to product pages. Sponsored ads offer numerous targeting options, as you can target users based on keywords and buying behaviours.
How to Lower Amazon ACoS?
A high ACoS is a common problem for Amazon sellers. Here are a few actionable tips to lower your Amazon ACoS.
Analyse the effectiveness of your keywords

Reduce bids on keywords with high ACoS

Optimise keywords with mediocre ACoS

Double down keywords with low ACoS
What to Do If Your CPC Is Too High?
If your CPC is too high, achieving the desired return on investment (ROI) on your ad campaign can be difficult. Here are a few techniques to lower your CPC.
Lower your bids

Use match types based on your objective (e.g. returns, reach, etc.)

Optimise your product page

Promote less competitive products
What is Amazon PPC Management?
Amazon PPC management is the process of managing your PPC ad spend. It includes continuous optimisation of your PPC ads to lower ACoS, reduce CPC, and increase conversions. The key elements of Amazon PPC management are:
Keyword Analysis: Finding and utilising high-relevance keywords through Amazon keyword research tools

Monitoring: Monitoring PPC metrics like ACoS and ROAS to learn which keywords and ad types perform the best

Competitor Analysis: Keeping an eye on competitors and the strategies they are using

A/B Testing: Split testing two or more ad campaigns, product pages, and/or match types to identify the best performers
Conclusion
As the eCommerce sector becomes more competitive, Amazon sellers can't rely solely on organic traffic. Amazon PPC ads help you gain a substantial competitive edge by reaching more customers and increasing your sales and revenue.
Do you feel you're not maximising your sales or results from your Amazon ads? Not even sure where to start? Optimum Click helps customers make data-driven decisions that drive higher conversions and more sales. Call us today and get expert help from our Amazon marketing agency.
Serious online marketing for serious online sales