7.5 min
read

Updated on 21st August 2023
27th Mar 2023
27-03-2023
Ready to boost online sales and attract crucial audiences?
Meta's Advantage+ Shopping Campaigns might improve your digital marketing approach. This cutting-edge campaign solution uses machine learning to speed the ad campaign creation process and ad management, target particular audiences, and boost conversion rates and ROI.
Let's examine Advantage+'s e-commerce enhancements for new and existing customers.
What are Meta Advantage+ Shopping Campaigns (ASC)?
Meta launched Advantage+ Shopping Campaign in August 2022.
A meta Advantage+ shopping campaign is an automated advertising product that uses machine learning to simplify the process of creating and managing shopping campaigns. With minimal input, advertisers can streamline performance goals, combine audiences, and automate the testing and delivery of the highest-performing ads.
Advantage+ shopping campaigns require fewer inputs, simplify audience options, and streamline creative management to be the most efficient solution for performance-focused advertisers looking to drive online sales.
Features:
Combining audiences and marketing into one framework

Segmenting clients by activity, geography, demographics, and more

Simplifying campaign creation and management

Potentially boosting conversions and ROI

Helping get ad sets out of the learning phase

Enabling testing of more creatives at a higher budget
In this article, we're going to guide you through the most relevant and important information about these ads so you can use them for your business.
Facebook (Meta) Trends to Watch
Every software firm evolves with tech. Same with Facebook. Meta is a trend-setter, but companies and marketers should recognize Meta's own trends.

Metaverse is vital because it offers new ways to socialize, game, and learn in a virtual 3D environment.

Reels, a fast-growing multimedia type on Facebook, provide producers a new option to generate money.

Groups help administrators reduce disinformation and manage and expand their communities with appropriate viewers.

Businesses must maintain active and informed social media profiles since Gen Z relies on them for brand research.

Messenger is significant because it lets companies communicate with customers personally, and people think texting a company boosts their confidence in the brand.

Facebook Shops provide companies an official sales channel on the site, increasing revenues and reach.

Meta's Advantage+ shopping campaigns leverage machine intelligence to help marketers with effective audience targeting and boost online sales.
A negative trend to keep an eye on is privacy. Apple's changes mean Meta must respond to the IDFA change in iOS 14. Keep an eye on how privacy restrictions change over the next few years. Our article on the Facebook IDFA response is a great place to start.
The latter tendency may affect Meta platform marketers most. Let's discuss the new campaigns, their purpose, and their AI.
The Power of AI and Machine Learning as an Ads Manager
AI simplifies Meta Advantage+ Shopping Campaign creation and targeting specific audiences. The AI can create ad combinations, test them, and optimize ad delivery for each ad viewer.
5 Key Benefits of ASC:
Automated rules will save you loads of time. They are also a great way to carry over learning across multiple campaigns.
★ Advantage+ AI targets, builds, and creates shopping campaigns.
★ Ads Manager data populates the campaign and automates setup.
★ The AI can test over 150 ad combinations creatively to create dynamic ads.
★ Creative objects immediately get filters and brightness/contrast adjustments.
★ To personalize the ad and boost click-through rates, the AI alters suggested ads for each visitor.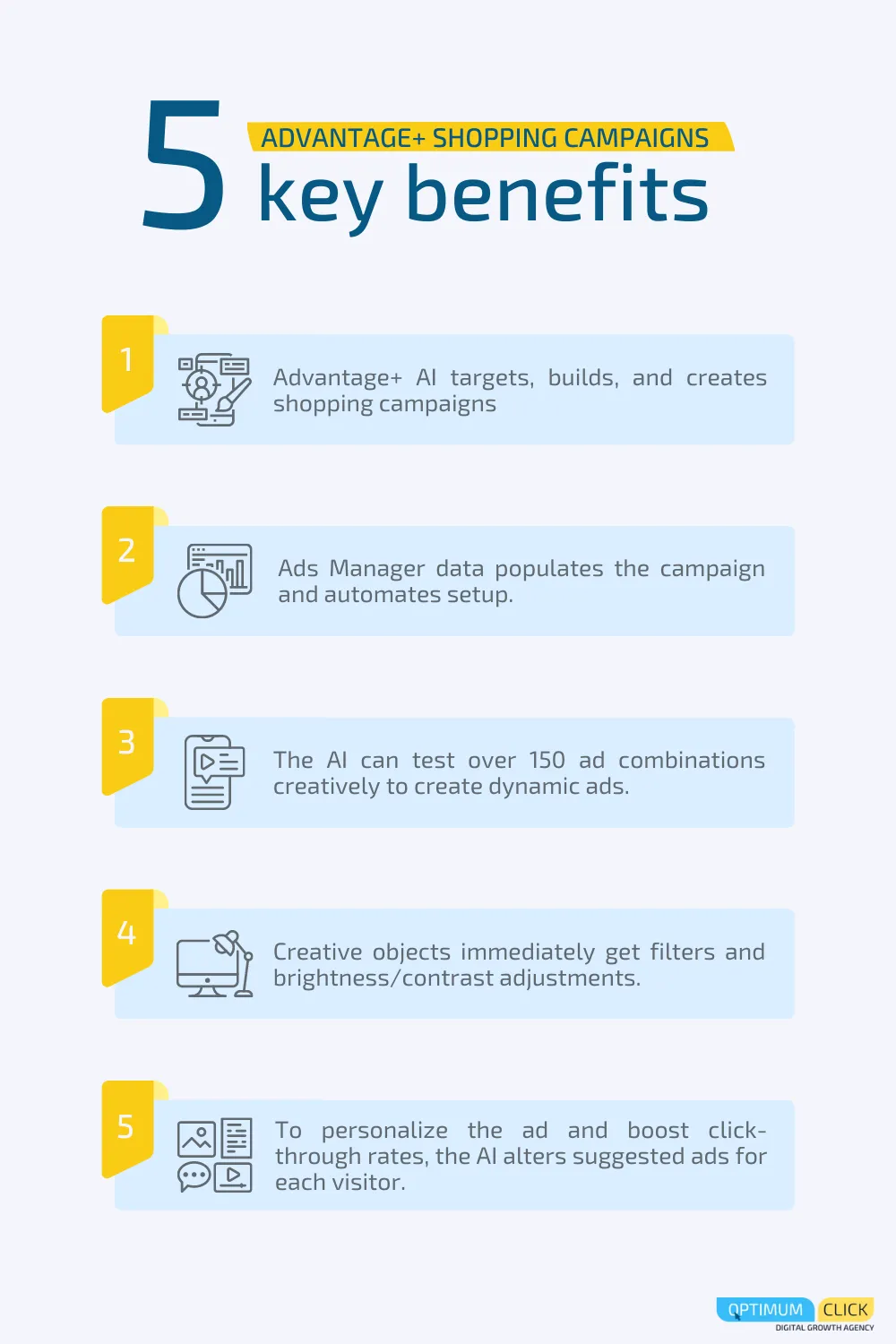 AI streamlines Advantage+ Shopping Campaign ad creation. These campaigns may improve advertising outcomes by automating and utilizing AI to evaluate and optimize creative materials.
Ultimately, you want your business to grow. AI can boost your performance, but you should always track your KPIs (Key Performance Indicators). Check out our article on eCommerce KPIs to spot the difference between a valuable metric and a vanity metric.
Simplify Your Ads with Advantage+ Shopping Campaigns
Before Advantage+ Shopping Campaigns, if your Facebooks Ads were not working, fixing them was difficult. Specialists were required. Automation with Advantage+ makes ad creation and management much simpler. Advantage+ Shopping Campaigns bring various features and benefits:
If all this seems like too much work, give us a call. Our team of experts will be happy to talk with you about your advertising results and ambitions.
Consolidated campaign structure: Advantage+ Shopping Campaigns reduce audience overlap by consolidating various audiences and campaigns into a single framework.

Creative optimization: Advantage+ Shopping Campaigns leverage powerful AI and machine learning to automatically evaluate up to 150 creative alternatives to improve ad effectiveness and efficiency.

Simplified campaign management: Advantage+ Shopping Campaigns streamlines campaign preparation, giving you more time to concentrate on other elements of your company.

Funnel-focused: Advantage+ Shopping Sales goal campaigns for direct-to-consumer and internet merchants boost performance and customer growth.
Before and After ASC
Here's a comparison table to show you the differences in ads before and after the introduction of Advantage+:
| Feature | Before | After with Advantage+ |
| --- | --- | --- |
| Existing Customer Budget Cap | Advertisers must manually allocate budget for existing customers | Advertisers can set an existing customer budget cap to allocate a specific amount of budget for marketing to existing customers |
| Reporting Function | Advertisers need to manually collect and analyze campaign data | Advantage+ Shopping Campaigns automatically provide more granular reporting insights with region and ad-level reporting, helping advertisers optimize their campaigns more efficiently. |
| Manual creative testing | Advertisers need to manually test and adjust creative elements to optimize campaign performance | Advantage+ Shopping Campaigns automate creative testing and optimization, automatically testing up to 150 creative combinations to deliver the highest-performing ads |
| Manual audience targeting | Advertisers need to manually select and adjust audience targeting options for each campaign | Advantage+ Shopping Campaigns use machine learning to identify and aim for the highest value customers across all of Meta's family of apps and services, simplifying audience options and providing more opportunities to reach people likely to purchase the products |
| Complex campaign setup | Advertisers need to set up multiple campaigns with varying targeting and creative setups | Advantage+ Shopping Campaigns require fewer inputs during campaign creation, simplifying the setup process and allowing advertisers to set up to 8 campaigns per country, giving the system more opportunities to reach people likely to purchase the products. |
Advantages and Disadvantages of Meta's Advantage+ Shopping Campaigns
Advantage+ Shopping Campaigns simplify and optimize advertising for businesses. This may be a big help for small businesses without large marketing teams to manage their ad account.
Meta's Advantage+ Shopping Campaigns

Pros

Cons

Consolidating campaigns eliminates audience overlap and unifies all media.

Advanced AI and machine learning optimize and evaluate up to 150 inventive combinations.

Simplified campaign management speeds up setup.

Sales goal campaign improves performance and client growth.

The best marketing outcomes come from AI budget adjustments and recommendations.

Performance-based enhancements utilizing the new AI.

No customization or bid strategy

Less audience definition and monitoring control

Campaigns solely target by nation.

Unsuitable for bigger campaigns that need third-party monitoring and location-specific targeting.
Performance Max versus Advantage+ Shopping Campaigns: Key Differences
Meta's automatic Performance Max Campaigns and Advantage+ Shopping Campaigns vary in various ways:
Goal: Max Campaigns assist organizations reach their marketing objectives, whereas Advantage+ Shopping Campaigns are for direct-to-consumer and internet shops with sales targets.

Target: Performance Max Campaigns may target by age, gender, and hobbies, whereas Advantage+ Shopping Campaigns only target by geography.

Budget control: Performance Max Campaigns provide more granular budget allocation, whereas Advantage+ Shopping Campaigns restrict current client budgets and automatically give the rest to new consumers.

Creative optimization: Advantage+ Shopping Campaigns automatically test 150 creative alternatives, whereas Performance Max Campaigns test 9.

Flexibility: Advantage+ Shopping Campaigns provide less flexibility over audience definition, monitoring, and placement than Performance Max Campaigns.

Customization: Performance Max Campaigns give greater flexibility and customization, while Advantage+ Shopping Campaigns are easier for smaller firms to boost ad performance with less human work.
Requirements for setting up an Advantage+ Shopping Campaign
Meta Use+ Shopping Campaigns are easy to set up, but they need particular settings to take advantage of the platform's powerful machine learning.
Set your campaign target to "Sales" first. The campaign will concentrate on sales and conversions rather than awareness or engagement.

Advantage+ Shopping Campaigns include pictures and videos. The AI-driven system creates many ad versions, so there is no need to manually develop different advertisements inside an ad package.

Finally, Advantage+ Shopping Campaigns aim to increase visitors to your website, thus each ad must be set to your website. The technology can measure conversions and adjust ad distribution using performance data.
The Advantage+ Shopping Campaign setup procedure is simplified to enable marketers to use the platform's powerful machine learning. The system generates various ad versions and optimizes distribution based on performance data by concentrating on settings and creative needs. This simplifies ad testing and increases website traffic and conversions.
PRO TIP

To really dominate your niche, you should do competitor research. Check out our

PPC Competitor Analysis

guide for more expert tips.
How to Set Up an Advantage+ Shopping Campaign
Advantage+ Shopping Campaign setup is simple. Here are steps to follow:
Campaign Creation: "Create Campaign" in Meta Ads Manager.

Choose a Goal: Continue with "Sales" aim. This campaign type needs less advertiser setup. Targeting, positioning, and budgeting will be handled by AI.

Choose a Campaign Setup: Continue with "Advantage+ shopping campaign".

Name and Target: Name your campaign and target the nation where you wish to market your items. Select one or more countries. You can only target this audience. Age and gender can't be targeted. Interest-based targeting is likewise prohibited.

Add Customer Audiences: "Go to Account Settings" and "Create" under the new section to create special audiences. The campaign reporting interface will label any audiences added here "Existing customers"

Set Budget: Set your "Existing Customer Budget Cap," to the maximum budget percentage to spend on existing customers. It's prudent to regulate Meta's bespoke audience budget. If you don't set this budget limit, Meta may spend more on current clients than new ones.

Tweak Audience and Delivery: Adjust audience and delivery parameters as appropriate. One campaign may test up to 150 creative options to offer the best advertising to high-value customers.

Budget and attribution. Meta suggests placing a budget limit only if you need to emphasize new user acquisition since it may impact buy volume. Select a campaign attribution setting. This parameter affects campaign performance and reporting. Choose attribution window wisely. "7-day click or 1-day view" is usually best.

Add Creatives: Finally, add your campaign creatives. Historical data will prompt Meta to import advertising. Historical campaign performance shows which of these advertising creatives may work best. Select advertising and click "Import All Ads." New adverts may be added manually like shopping campaigns.
Pro Tip: This campaign type requires a larger budget and audience settings to distinguish new and returning visitors. These steps help you rapidly set up an Advantage+ Shopping Campaign and let the AI system optimize ad distribution and outcomes.
Advantage+ Shopping Campaign Questions
Since these ad formats are new, many individuals have doubts regarding their optimum uses. Top questions and answers are below.
Are Advantage+ Campaigns Actually Helpful?
New machine learning models automate ad generation, targeting, and creatives for Advantage+ shopping campaigns. Advantage+ shopping advertisements had 12% lower cost per purchase conversion than BAU advertising in 15 A/B testing. It's a great tool for optimizing eCommerce KPIs to increase revenue.
These innovative initiatives let big and small organizations adopt AI without spending a lot of money. Facebook advertising for small companies may leverage Advantage+ creative and audience. These techniques save time and money while identifying top-performing ads. Advantage+ creative optimizes ad performance for each viewer. Advantage+ audience automatically adapts to help companies reach more relevant individuals with their ads.
Advantage+ Shopping Campaigns help companies improve campaigns and boost revenue. Businesses can maximize their advertising budget, client acquisition, and growth by using AI to rapidly and accurately detect which advertisements are performing.
When is it worth using ASC?
Businesses aiming to optimize their ad expenditure and performance using AI and automation may benefit from Advantage+ campaigns. These strategies maximize sales, return on ad spend, and automate ad development and testing.
Advantage+ marketing may help companies reach new consumers and boost their ad expenditure. These campaigns may not work for all businesses and advertising goals. Before using Advantage+ campaigns, assess your company requirements and objectives.
What About Ad Targeting?
Advertisers may efficiently target their customers using Advantage+ Shopping Campaigns (ASC). Demographics, hobbies, and geography may help advertisers target consumers. Advertisers may boost their advertising' conversion rate by targeting a certain audience.
ASC works well with large audiences. Advertisers may reach a broader audience with this targeting method. Broad audiences may help firms who are unsure of their target audience or want to grow. ASC's sophisticated machine learning can find new clients likely to connect with advertising from wide audiences.
ASC may also target lookalikes. ASC may develop a lookalike audience based on a business's present customers using customer data. This method may help marketers find new consumers with comparable interests and behavior. Lookalike audiences/models may boost ASC campaign success by making advertisements more relevant and engaging to prospective consumers.
When is ASC NOT Useful?
Advantage+ Shopping Campaigns (ASC) may boost sales, but they have significant drawbacks. Ecommerce and retail advertising may utilize ASC, but other sectors cannot. ASC only lets marketers target by geography, not age, gender, or hobbies.
Consider all choices before choosing ASC for your advertising aims. Ask an advertising specialist whether ASC is suitable for your company. They may evaluate your circumstances and provide customized advice. Working with a professional ensures that your advertising plan selection is well-informed.
Meta's Advantage+ Shopping Campaigns (ASC) use machine learning to identify and aim for the highest value customers across Meta's family of apps and services, but it needs time to learn about the audience and optimize the campaign to drive online sales efficiently. This might make it a less optimal choice if you want results super fast or cannot afford the learning time budget.
Conclusion
In conclusion, Advantage Shopping Campaigns are a cost-effective strategy to attract new consumers and boost revenue. Businesses may rapidly identify successful advertisements and optimize their advertising spend with AI and automation. To maximize these initiatives, you must know how to put them up and target the correct demographic.
Contact Optimum Click for experienced help setting up and improving your advertising campaigns. Our advertising experts can help you reach your audience and accomplish your business objectives.
Serious online marketing for serious online sales