13 min
read

Updated on 22nd August 2023
14th Jun 2023
14-06-2023
With 1.9 million active sellers, Amazon is one of the most dynamic and competitive marketplaces worldwide. The expanding customer base and the credibility of Amazon make it the go-to place for all online sellers. However, this also means high competition. Without an Amazon product research tool, finding profitable products to sell is hit and miss.
Instead of guessing, use one or more of these Amazon product research tools to access historical sales data, find winning product ideas, and streamline your research process. The Amazon marketplace is a vast opportunity for white label sellers, dropshippers, and more. But few people achieve success with taking the time to research products, compare sales estimates, and account for shipping costs.
Sellers can strategically use Amazon keywords to outshine their competitors and increase visibility.
NUTSHELL

In this guide, you'll learn some tips from our digital marketing and Amazon marketing experts:

Importance of using an Amazon keyword research tool

Top 10 Amazon keyword research tools for finding accurate data

How to use an Amazon keyword tool to find the best keywords, estimated sales, and competitive prices for any particular product
Excited? Let's get started.
Why Use an Amazon Product Research Tool?
Before delving into the benefits of using an Amazon keyword search tool, let's take a moment to understand Amazon's search algorithm. It has a name too – A9.
Amazon is the world's biggest marketplace with over 350 million products and 200 million users. These numbers are a blessing in disguise for online sellers. Selling on Amazon has many benefits. It's trusted, and many people use it. So, if you want to sell your product online, there's no better place than Amazon.
However, Amazon is extremely competitive. Millions of sellers are selling millions of products in the marketplace. How do you beat this competition? Here is where choosing the best keywords comes into the picture.
Amazon is a marketplace, so its ultimate goal is to sell stuff. The A9 algorithm is all about selling as much stuff as possible. It identifies relevant, high-converting products and ranks them on the top of search results. The algorithm uses keywords to determine the relevance of a product. A product that has relevant and high-volume keywords wins the top spot.
However, finding these high-volume and high-converting keywords can be challenging. Here is where Amazon keyword research tools can help. These tools allow you to find the most relevant Amazon keywords based on search volume and other factors. You can also generate long-tail keywords and backend keywords to improve your product's ranking on the search results page.
Here are some benefits of using a keyword research tool for Amazon.
☑

Find the Best Keywords: Amazon keyword research helps you find the best keywords to use in your Amazon listing and description.

☑

Increase Search Ranks and Visibility: Including important keywords in your product listing can maximise visibility and product search ranks. Hence, you can make your product appear in front of more people and make more sales.

☑

Talk the Shopper's Language: Talking your customers' language is critical to getting sales. Keyword research helps you find the language your customers use. You can use the same language in your product description to create better engagement.
One thing to keep in mind is the difference between vanity and value. Measuring site traffic is useful, but it's mostly a vanity metric. It doesn't tell you how much money or sales you are generating. If you're not sure which metrics to track, check out our article on the best ecommerce KPIs to track.
How Does Keyword Tool Generate Relevant Keywords for Amazon?
All Amazon keyword research tools generate keywords using Amazon's suggest function. When a user types a key phrase in the search box, Amazon suggests the best matches. Amazon uses robust algorithms to predict what a user could search for and suggest results accordingly.
However, Amazon's suggest function has a few drawbacks, such as:
It doesn't disclose the volume of the keyword.

It doesn't provide critical metrics like competition and paid difficulty.

It doesn't allow you to sort and filter keywords based on location and other demographics.
An Amazon keyword tool does that for you. It uses Amazon's search engine to fetch the most relevant keywords and presents them to you comprehensively. It shows keyword search volume data, most searched keywords, and related keywords. Amazon sellers can leverage these insights to improve keyword optimisation and make their Amazon PPC campaigns more effective.
10 Best Amazon Keyword Tools
There are dozens of tools you can use to find new keywords for your Amazon product listing. All tools offer unique features and functionalities, so the tool you choose will depend on your requirements. Some free tools are straightforward and help you find the best keywords, whereas other tools have robust features like reverse ASIN lookup, competitor analysis, etc.
Let's look at the ten best keyword tools you can use to supercharge your Amazon business.
1. AMZ One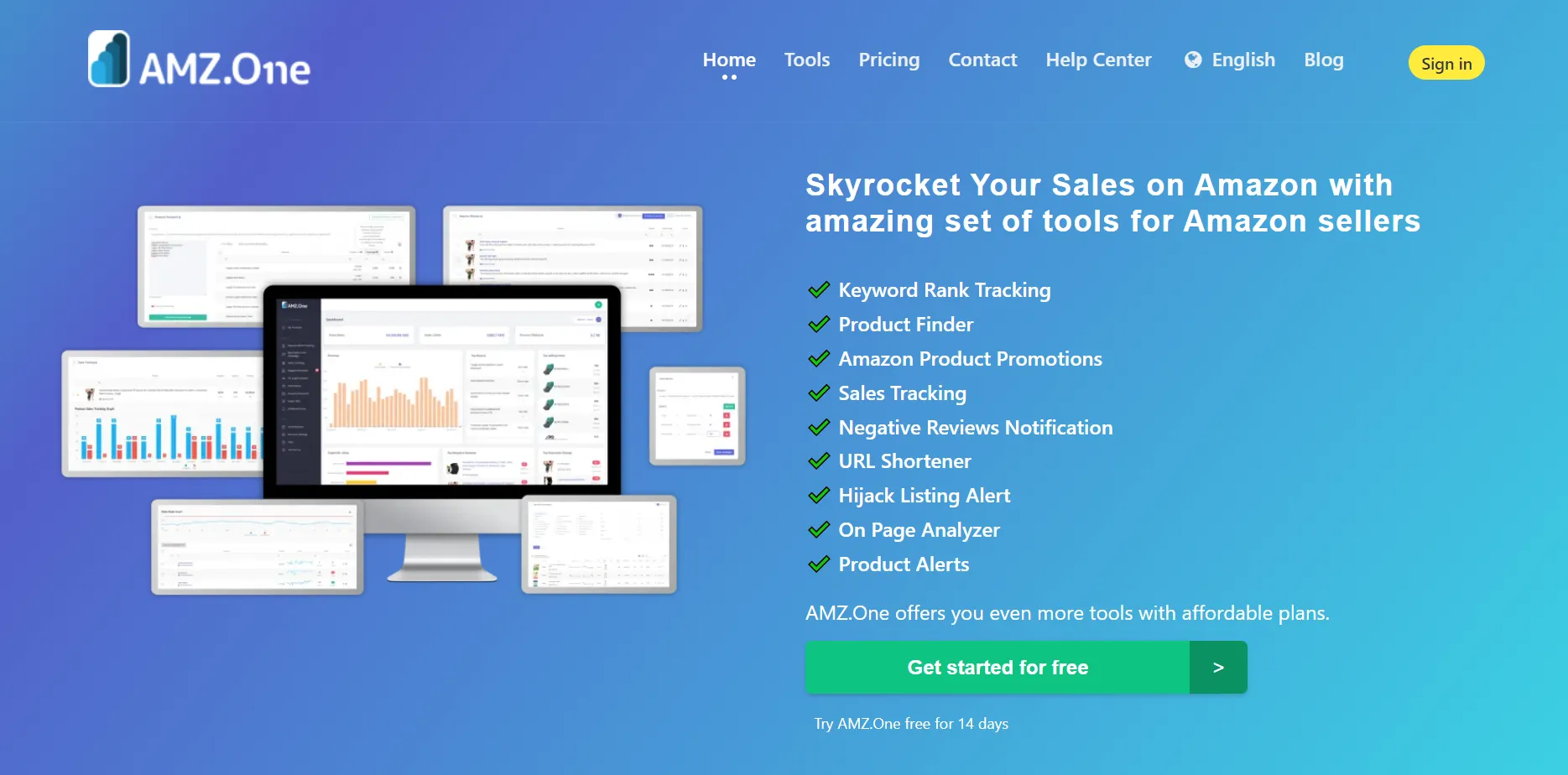 AMZ One is the go-to tool for most Amazon sellers, thanks to its exhaustive range of features. You can use the tool for almost all your Amazon needs. It supports keyword research, rank tracking, analysing and optimising potential keywords, and more. It also comes with competitor analysis features that help you find which keywords your competitors are doing.
The top features of AMZ One are:
Keyword rank tracking

Product finder

Amazon product promotions

Sales tracking

Advanced super URL

On-Page Analyzer

Product alerts and negative reviews notification
2. Jungle Scout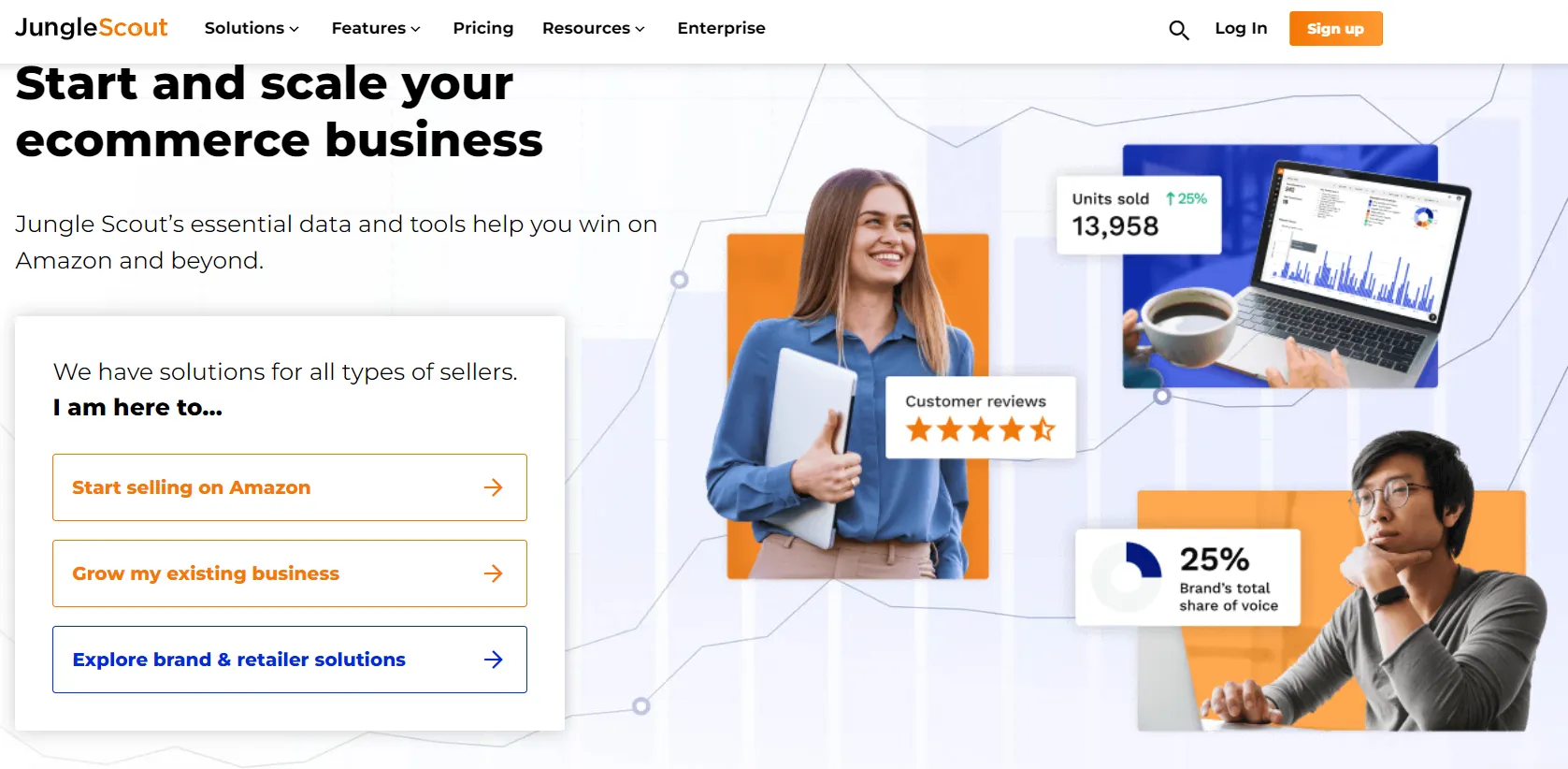 Jungle Scout is a popular tool among Amazon sellers, and for the right reasons. Its keyword tool, called Keyword Scout, allows you to find high-ranking keywords based on critical data points, such as search volume, competition, CPC, etc. Like all advanced Amazon keyword tools, Jungle Scout has reverse ASIN functionality that enables you to see what customers are searching for.
Key features of Jungle Scout are:
Extensive product data

Tools for everyone from beginners to enterprise-level users

Rank and product tracker

Listing builder

Product database and supplier database

Inventory manager
3. MerchantWords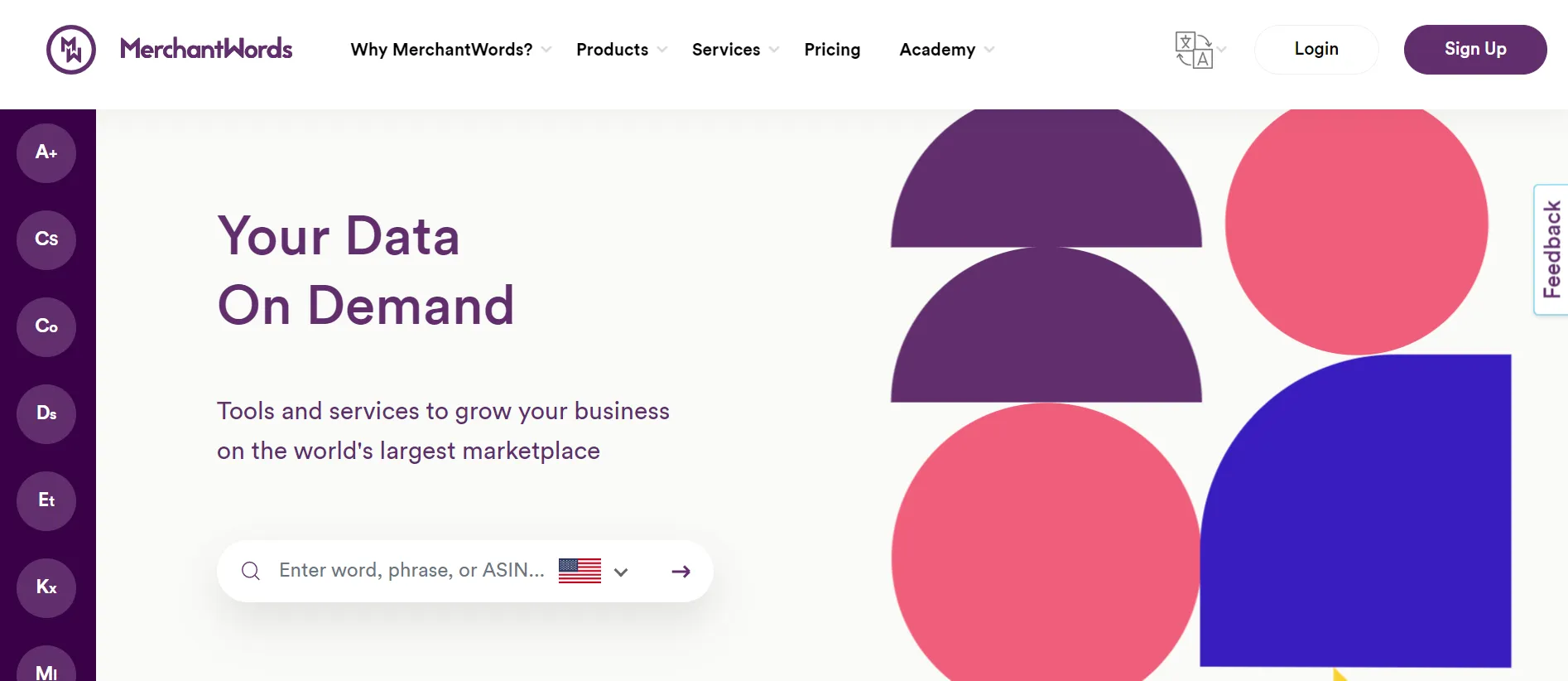 MerchantWords is an on-demand Amazon data platform that provides various tools and features to boost your Amazon business. It has a search bar right on the top of the page. You can enter a keyword you want to rank for and run a search. MerchantWords fetches thousands of related keywords along with their search volume and search trends. You can filter keywords based on country to make your Amazon marketing more laser-focused.
Merchant Words has 9+ years of Amazon data and 2 billion+ keywords analysed across 1 billion products in 11 marketplaces. Over 200k businesses already use the tool to grow their Amazon sales.
Some essential features of MerchantWords are:
In-depth market insights and competitor analysis

Comprehensive Amazon SEO research

Identify brand new searches and emerging trends

Classic keyword research to find new keywords, volume, and seasonality

Keyword multiplier to find related relevant keywords

ASIN lookup
4. Ahrefs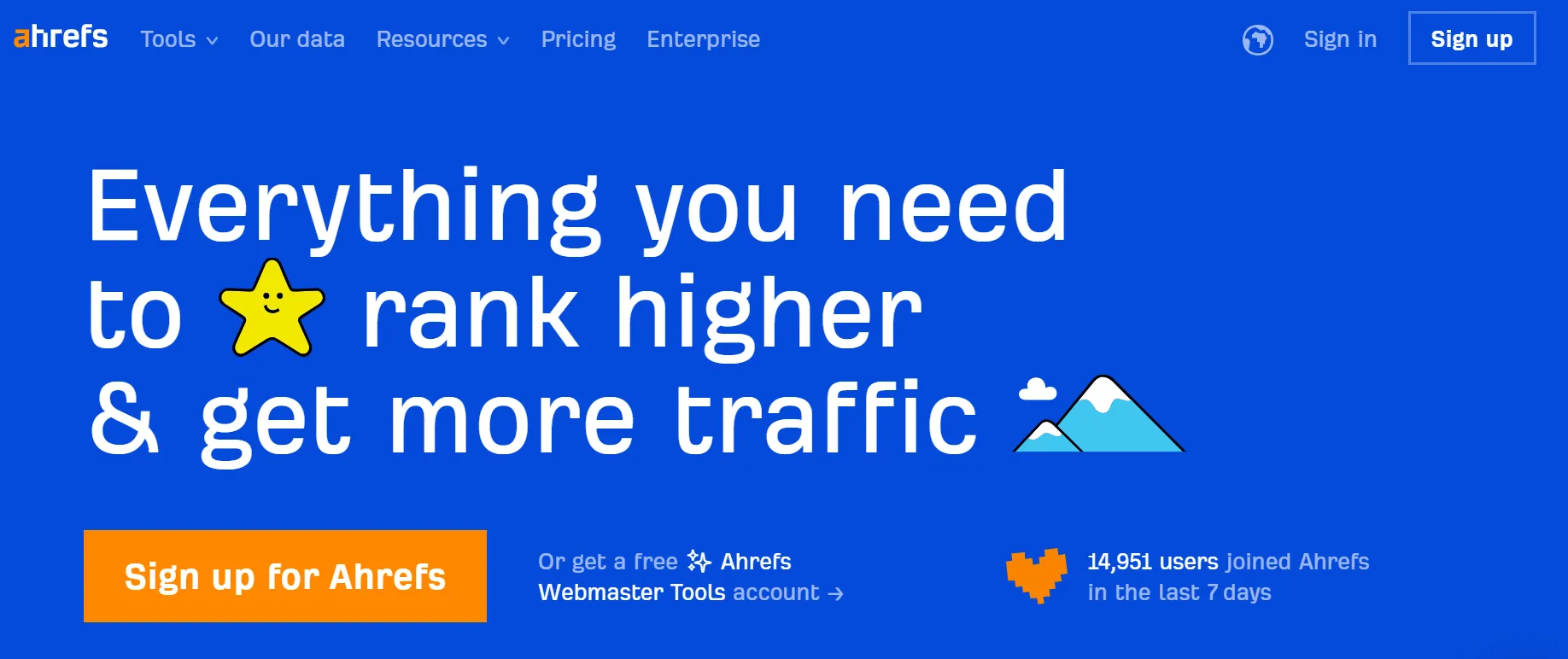 Ahrefs remains to be one of the most popular tools among PPC managers and Amazon sellers. Its dashboard provides several in-depth insights to create a winning Amazon keyword strategy. You can use Ahrefs to find keywords bringing visitors to Amazon pages organically. You can also check the competition and other metrics for each keyword and determine which will be ideal for Amazon SEO.
Some key features of Ahrefs are:
Research organic traffic

Research backlinks

Research pages

Research paid keywords

Research outgoing links
5. Viral Launch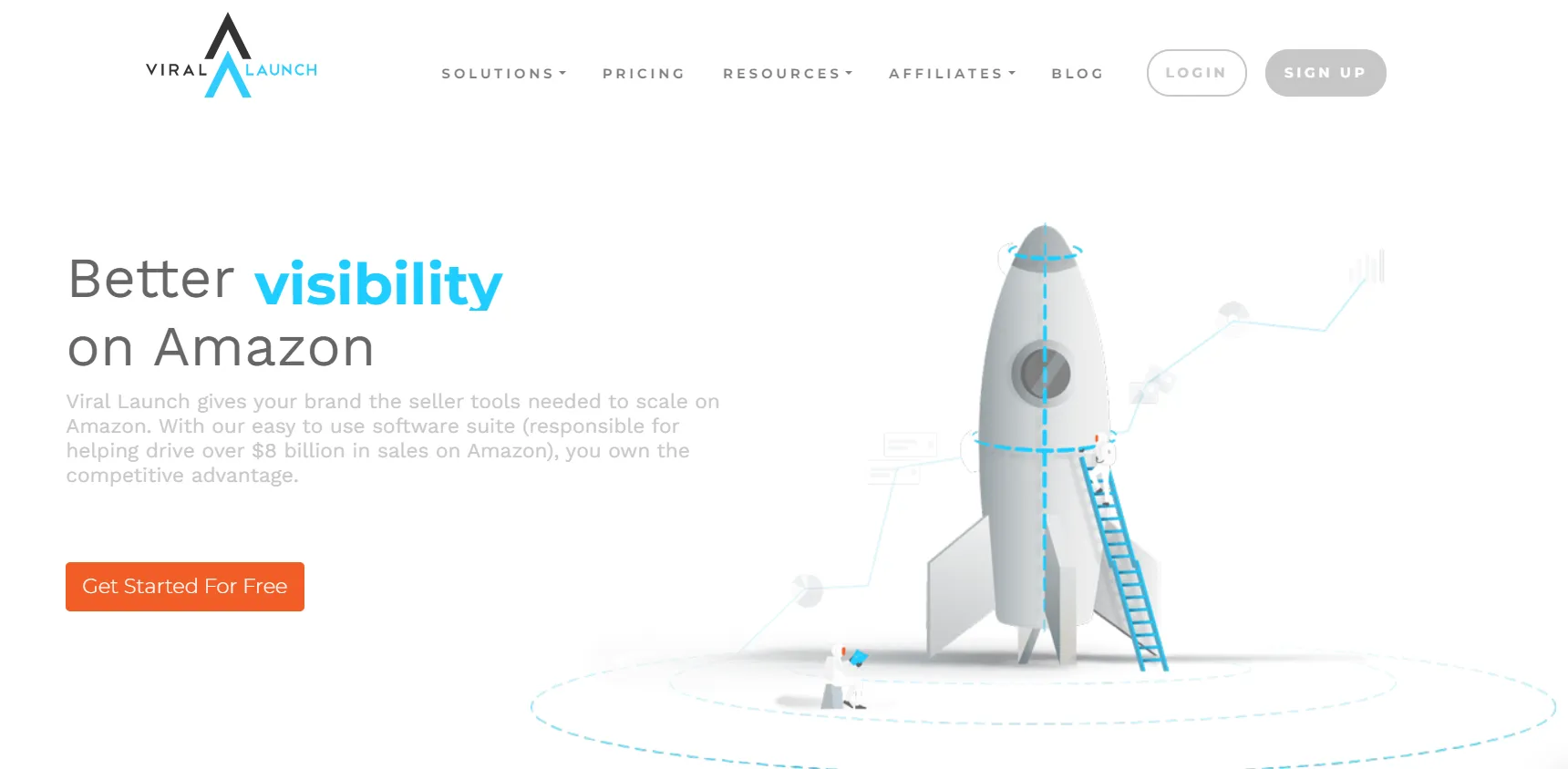 Viral Launch offers a suite of tools to help sellers on Amazon. It provides a comprehensive solution for product sourcing, launching, and becoming a dominant competitor in the marketplace. Responsible for driving over $8 billion in sales, Viral Launch is a go-to solution for success on Amazon.
Its software suite includes robust features for Product Research, Competitor Tracking, Keyword Research, Advertising & PPC, and Keyword Tracking. These tools allow for the discovery of profitable product ideas, competitor analysis, identifying key product keywords, optimising PPC campaigns, and enhancing keyword strategy, respectively.
Notably, Viral Launch has tracked over 225 million products, launched more than 44,000 products, and contributed to the growth of over 10,000 brands. It also offers a unique tool for automating Amazon PPC, touted as the only PPC tool Amazon sellers need to succeed.
Viral Launch is characterised by its data science team and AI-powered insights that utilise billions of Amazon data points. The suite of tools is praised by users for enabling data-driven decisions in their businesses, from targeting the right products to exploiting opportunities in keyword research.
Key features of Viral Launch are:
Accurate sales estimates and trends for product research

Competitor analysis for learning from their strengths and weaknesses

Automated keyword research for identifying key product keywords

Ad rank tracking, suggested bids, product-targeting suggestions for PPC

Keyword strategy enhancement through tracking performance
Overall, Viral Launch is an excellent tool to scale on Amazon, offering a range of features to make smarter decisions faster and become more efficient and effective.
6. Google's Keyword Planner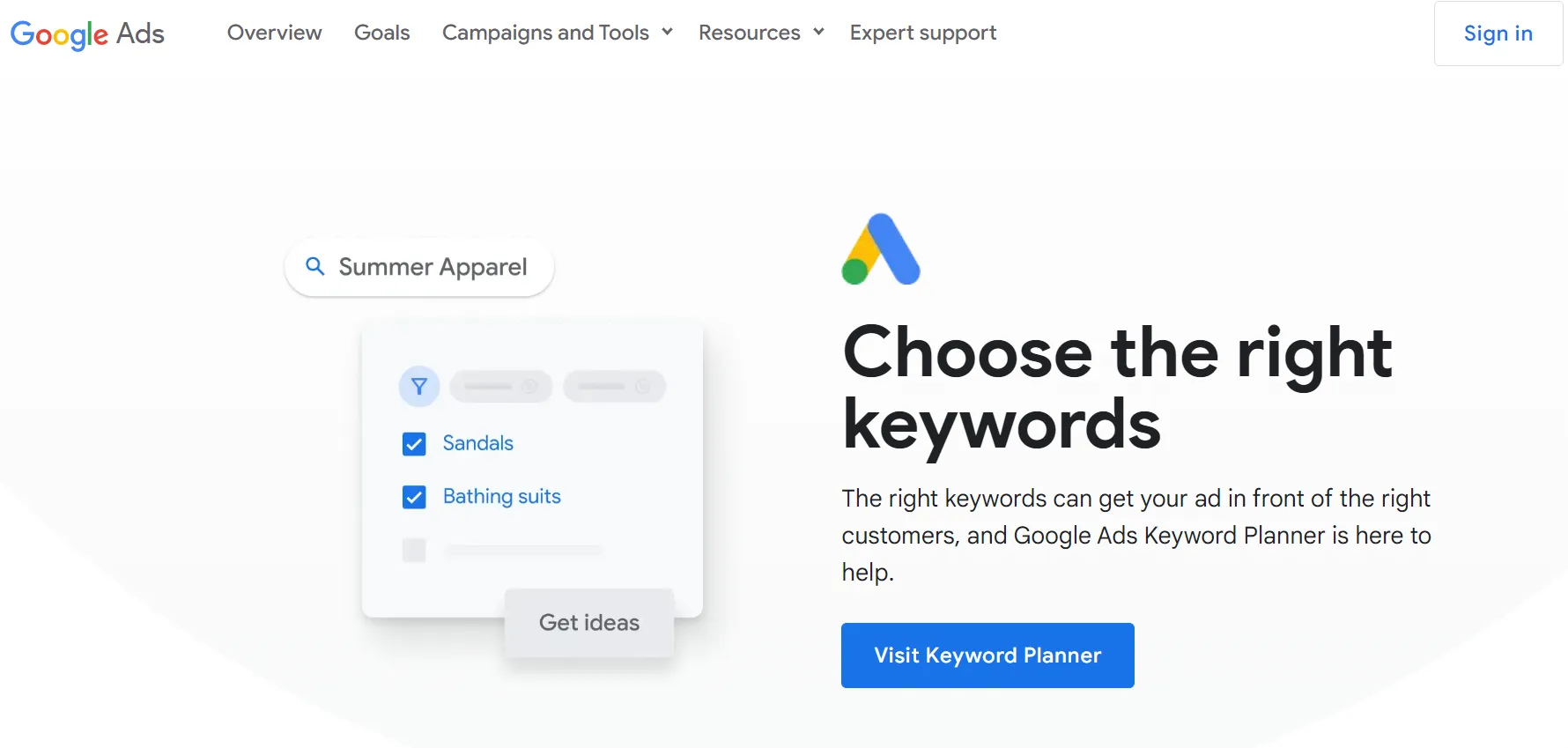 Many Amazon sellers think that Google Keyword Planner is only helpful for Google PPC campaigns. It's true that Keyword Planner will show keywords relevant to Google's search data, but Google and Amazon work quite similarly in terms of the search algorithm. Both prioritise relevant keywords that are likely to bring sales.
Many people who want to buy a product online won't directly search for it on Amazon. Instead, they'll search for it on Google and then find its Amazon listing. Hence, Keyword Planner can provide critical insights and high-volume keywords that you can use to target Amazon users.
However, ensure that you match keywords to Amazon's A9 algorithm and not Google's algorithm. You can follow this article to understand the differences between the two.
Let's look at some key features of Google Keyword Planner.
Location-based keyword research

Search data based on timeframes

Competition column

Grouped ideas

CPC and search volume data
7. Keyword Tool

If you're looking for an effective alternative to Google Keyword Planner, Keyword Tool can be an ideal pick. It's a native Amazon tool that lets you search for a keyword and get information on search volume, CPC, competition, and trends. It also provides suggestions for related search queries based on the entered keyword.
The tool is ideal for Amazon sellers, marketing agencies, and SEO professionals who want to rank their product listings higher on the search page. Like most Amazon keyword platforms, Keyword Tool uses the Amazon autocomplete functionality to fetch keywords.
Keyword Tool doesn't have many features, which could be a downside, provided that it doesn't have a free version. However, it's an all-in-one tool that lets you find keywords for YouTube, Bing, Amazon, eBay, and Instagram.
8. Scientific Seller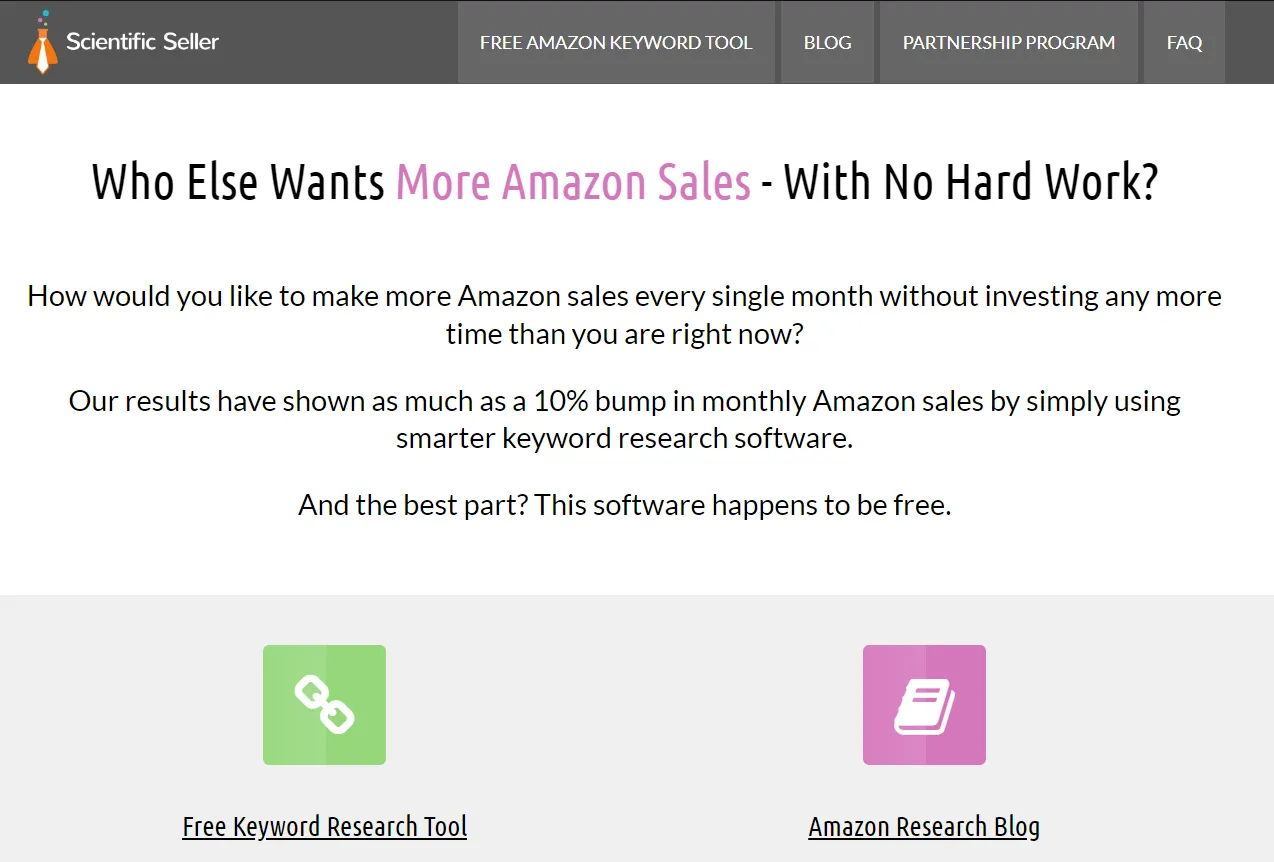 If you want to boost your Amazon sales but don't want to pay for a keyword tool, Scientific Seller can be the right pick for you. It's a free Amazon keyword tool that allows you to find profitable keywords.
Scientific Seller is easy to use. You need to head to the keyword research section, type a couple of seed results, select the country, and hit the search button. Then just sit back and relax. The tool will fetch thousands of keyword possibilities. You can also sort the keywords list.
Since Scientific Seller is a free tool, it doesn't have many features. It only has a keyword research tool that lets you find profitable keywords.
9. Sonar

Another completely free tool on the list, Sonar, is an Amazon keyword tool that helps you find the best keywords for your Amazon product listing. It's simple to use as well. All you need to do is enter the main keyword in the search box. Sonar fetches hundreds of keywords related to the given keyword. It also tells the search volume associated with each keyword. You can even expand your search and find more keywords by using the Frequent Words option.
Key features of Sonar are:
180+ million keywords

Reverse product ASIN lookup

Compliance with Amazon algorithm

Based on proven Amazon ranking factors

Ease to start and use
10. SellerApp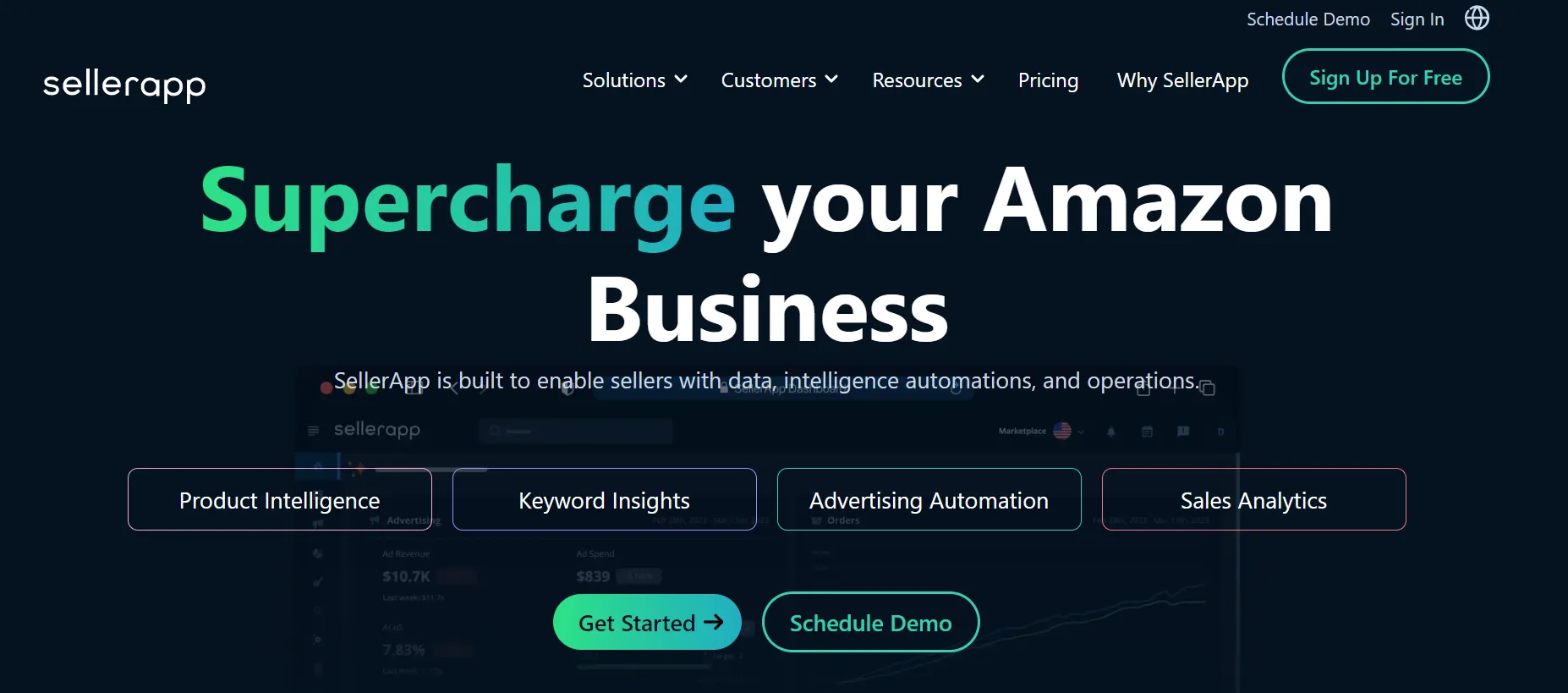 SellerApp is one of the most robust Amazon listing keyword optimisation tools in the market. If you need a tool that provides accurate, updated, relevant, and high-converting keywords, SellerApp can be your go-to choice. Besides keyword suggestions, it offers crucial metrics like search volume, estimated orders, CPC, and more.
An Amazon seller can use this data and combine it with keyword suggestions to reach potential customers and increase product sales.
Some essential features of SellerApp are:
Keyword research and tracking

Product tracker and ROI tracking

A/B testing

Bid and budget management

Campaign management
How to Use an Amazon Keyword Research Tool?
Most Amazon keyword research tools work similarly. You need to enter the main keyword you want to target, select the marketplace location, and perform a keyword search.
Let's say you are a footwear seller based in the UK. You want to sell sports shoes online, and your main target keyword is "sports shoes." You'll need to enter this keyword in the search bar, select the UK as the country or marketplace, and start the search.
The tool will take a few seconds to fetch the results. Once the search is complete, you'll have thousands of keywords to choose from. Most tools have the sorting feature to sort the keywords based on search volume or other metrics.
How to Choose the Best Amazon Keywords?
PRO TIP

Once you have the list of keywords, you need to pick the right keywords. The ideal word count of an Amazon product description is 300-400 words, and the ideal keyword density is 1-2%. So, you'll need to choose 4-8 unique keywords from a list of thousands of keywords for one Amazon listing.
If you're a new seller, you should pick keywords that are of medium popularity. If their estimated search volume is too high, it's likely that many sellers are already targeting them. Hence, the competition will be fierce. If you choose a keyword with low search volume, you may rank higher but not get enough product visibility.
Therefore, it's best to find keywords that have medium popularity. For new sellers, the 1k-10k volume mark will be favourable.
Established sellers could be able to target up to 100k monthly search volume but not beyond that.
You'll want to establish an Amazon PPC strategy and action plan to get the most out of your efforts and budget. Read our Amazon PPC strategy guide to learn more.
How to Use Keywords in Your Product Listing?
The final step is to use keywords to improve your product listing. You should try to add keywords everywhere possible without being forceful or pushy.
Here are the best places to include Amazon keywords.
Product title

Product key features

Product description

Keyword search terms
Since the A9 algorithm indexes new keywords only, you don't need to repeat a keyword. You can use a new keyword every time.
Conclusion
Users on Amazon are increasing, and so are the number of products and sellers. While this benefits customers, Amazon sellers need to be more proactive and implement the right strategies to beat the competition. Using the right keywords in the product title and description is one of the best ways to get a competitive edge. You can choose an Amazon keyword tool of your choice and start finding high-volume, profitable keywords.
For even better results, turn to the professionals. Our team offers a brilliant Amazon PPC Management Service that can help you find the right keywords, formulate a winning strategy, and execute your plan perfectly. We cannot make any guarantees, but we can assure you of our years of experience helping businesses improve their sales through better, data-driven marketing.
So, which keyword tool would you like to use?
Serious online marketing for serious online sales