10 min
read

Updated on 28th August 2023
28th August 2023
28-08-2023
TikTok has a vibrant community of people who love to watch short videos and share their experiences with each other. If you're one of the advertisers who want to promote your brand on the platform, you might be wondering where to start, or what mistakes to avoid. Don't worry — we've gathered a list of the top best TikTok Ads best practices for 2023.
Why TikTok? TikTok's popularity and rise in ad usage
TikTok has quickly become one of the most popular social media platforms, with an Estimated 1 billion active users worldwide. Its rise in popularity can be attributed to its short videos that allow users to showcase their creativity and engage with a vast audience. With its unique algorithm that tailors the content to each user's preferences, TikTok has managed to captivate and retain its users.
As a result of its massive user base, advertisers have been keen to tap into the platform's potential for promoting products and reaching a younger demographic. Brands have started incorporating TikTok into their advertising strategies, creating sponsored content and partnering with popular TikTok creators to increase visibility and drive engagement.
The platform's ad usage has skyrocketed in recent years, with companies realising the opportunities it presents in terms of brand exposure and customer acquisition. With its ever-growing popularity, TikTok is likely to continue being a go-to platform for advertisers seeking to reach a wider audience and establish a strong presence in the social media landscape.
What are TikTok ads?
TikTok is a video-sharing app where users can create and share short videos set to music. The app has gained immense popularity, particularly among younger demographics. TikTok ads are essentially short video clips that play within the app, typically lasting between 5 and 60 seconds.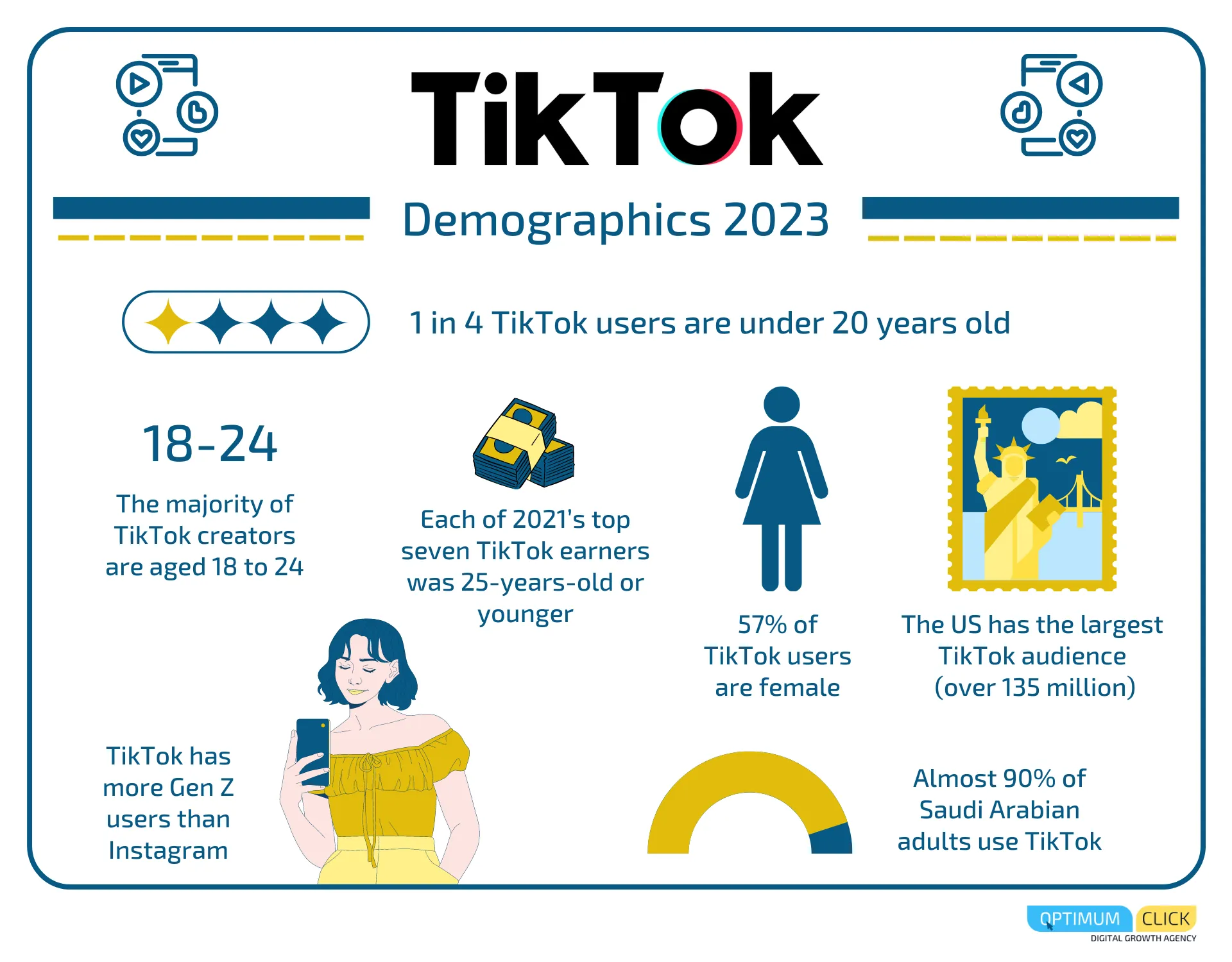 Different ad formats available on TikTok
Ads on TikTok can be either in-feed or full-screen and are designed to capture users' attention and promote products or services. TikTok offers various types of ads, including Brand Takeovers, Native Videos, Image Ads, Carousel Ads, Shopping Ads, hashtag challenges, Spark Ads and Branded Effect.
Types of TikTok ads:
In-feed ads are short videos that appear between user-generated contents.

Brand takeovers allow you to display an ad as soon as users open the app.

Hashtag challenges encourage users to create and share content related to your brand or campaign.

Shopping Ads enable brands to showcase their products within TikTok's interface, allowing users to browse and purchase items directly through the app, enhancing the shopping experience.

Spark Ads is a native advertising format that allows you to 'boost' your organic TikTok posts within your ad campaigns

Branded Effect on TikTok allows brands to create and promote custom AR (augmented reality) filters, stickers, and effects that users can apply to their videos, enhancing brand recognition and fostering user creativity and engagement.
When creating your ads, it's important to keep them visually appealing, authentic, and engaging to capture the attention of TikTok's user base.
How to advertise on TikTok?
Advertising on TikTok can be a highly effective way to reach a younger, tech-savvy audience.
The first step to advertise on TikTok is to create a TikTok ads manager business account and familiarise yourself with the platform's advertising policies and guidelines.

Next, determine your advertising objectives, whether it's awareness, consideration, or conversions.

Finally, build ad groups, set your campaign budget, target audience, and duration for your ads. Regularly monitor and optimise your TikTok ad campaigns to ensure maximum effectiveness and return on investment.
Key Considerations for Successful TikTok Advertising Best practices
#1 Capturing attention within the first few seconds
Advertisements on TikTok can have a duration of up to 60 seconds, however, most individuals make the decision to either swipe or watch an ad solely based on the initial message.
Only 25% of users proceed to watch the ad beyond the first five seconds, with the average watch time being between five to six seconds.
Here are a few examples of effective hooks to capture the viewer's attention and encourage them to continue watching:
Commence your video with action and captivating audio to maximise viewer engagement.

Present an enticing headline

Display an extraordinary or thought-provoking visual in order to generate curiosity
Without a captivating hook, your ads will go unnoticed. Therefore, it is advisable to experiment with different approaches, headlines, and video introductions to determine the most effective strategy.
#2 Making ads sound-agnostic
TikTok users have a significantly greater chance of remembering a brand based on the sounds and songs used in its videos rather than other elements like visual style, colour, slogan, and logo. This emphasises the importance of selecting suitable sounds for brand recognition and attracting viewers.
PRO TIP

To discover popular sounds on TikTok, follow these steps within the app:

Utilise TikTok's search feature.

Explore the For You page

Browse through TikTok's sound library.

Utilise the Creative Center
#3 Include a Compelling Call-to-Action
TikTok advertisements should be entertaining, informative, and have a call-to-action button (CTA) that instructs viewers on their next step.
It is important to ensure that the CTA matches the content being promoted.
If you want to direct traffic to a product page, it is a good idea to use the "Shop Now" CTA.

If your goal is to increase app installations, you can choose the "Download" or "Play game" CTA.

For email signups or free trials, select the "Sign up" CTA.
https://lf-adcdn-useast2a.tiktokcdn.com/obj/i18nblog-euttp/tt4b_cms/en-US/tipdilz7wysq-2QQ6EUljS677Q6R3CLRDZU.mp4
#4 Leveraging user-generated content
User-generated content (UGC) is effective because it gives people an authentic and non-promotional feel, similar to a recommendation from a friend.
An overwhelming majority (80%) of consumers place their trust in UGC over traditional advertising.
As a TikTok advertiser, your objective is to capture the viewer's attention in an attractive manner, without interrupting their overall user experience.
If your ad seamlessly integrates into the viewer's feed, they will be less likely to disregard it as an advertisement. Instead, they will better absorb its main message and be more inclined to take action.
By fully adapting to the behaviour of TikTok users and embedding your promotional content within TikTok's content, you can create captivating ads that hardly resemble advertisements. This approach will result in higher conversions among TikTok's user base.
You can also incorporate numerous audiovisual effects into your creative to enhance the appearance of your advertisements and make them appear more natural. For example:
Greenscreen

Transition effects

Subtitles

Time warps

Video reversals

Background music

Robot voice narration
https://www.tiktok.com/@goldfishsmiles/video/6945555303253462278
#5 Defining goals and target audience
Brands can target their ads based on various criteria such as age, location, interests, and more. TikTok ads provide businesses with an opportunity to reach millions of users and increase their brand awareness. With the app's rapidly growing user base and engagement rate, TikTok ads have become an effective way for businesses to create ad campaigns and reach a diverse and engaged audience.
#6 Collaborating with TikTok influencers
If you partner with a TikTok influencer, your marketing potential will increase significantly. They can assist you in gaining popularity in a niche market that is new to you, or help you explore content types that you may not be familiar with.
You can assess and examine individual influencers through TikTok's Creator Marketplace, or seek assistance from an influencer marketing agency to quickly find the perfect match for your brand.
When choosing creators to collaborate with, consider your target audience and the various forms of representation they identify with, such as gender, follower sizes, and cultures. Make sure that your consumers can visualise themselves, quite literally, using your product. Incorporating inclusivity and representation in your creative endeavours will establish a stronger bond with your audience and enhance the relatability of your brand.
https://www.tiktok.com/@khaby.lame/video/7270162856669203744
#7 Testing Smart Performance campaign
Smart Performance campaign (SPC) is a relatively new thing. SPC is a similar campaign type like ASC within the meta platform.
It's TikTok's comprehensive automation solution for improved campaign results!
The Smart Performance Campaign requires minimal effort from advertisers and utilises automation capabilities driven by machine learning to enhance campaign performance and accomplish campaign objectives. SPC provides an alternative process to manually create campaigns, with improved tactics for targeting audiences, bidding, and experimenting with creative content.
#8 Tracking and analysing TikTok ad performance
Tracking and analysing TikTok ad performance is crucial for businesses to understand the effectiveness of the advertising campaigns on the platform. TikTok provides various metrics and analytics tools that allow advertisers to measure the success of their ads.
By tracking the number of views, likes, comments, shares, and click-through rates, businesses can gain insights into the level of engagement and the impact their ads are having on the target audience.
Additionally, TikTok's advanced targeting options enable advertisers to analyse the demographics and interests of the users who are engaging with their ads, helping them better understand their target market and refine their advertising strategies.
By regularly monitoring and analysing TikTok ad performance, businesses can identify trends, optimise their campaigns, and make data-driven decisions to maximise their return on investment.
Ultimately, tracking and analysing your TikTok marketing performance empowers businesses to create more personalised and engaging content, leading to higher brand awareness, customer engagement, and potential sales.
Our experience
TikTok Ads Cost
CPC/CPM prices on TikTok are comparable to Meta (formerly Facebook). However, the cost per conversion is typically higher compared to Google, although this can vary depending on the product.
Targeting
When advertising on TikTok, it is recommended to follow a similar strategy as communicated by Facebook (FB): begin with broad targeting and prioritise the best-performing TikTok creatives, then gradually test special interests. On TikTok, the emphasis is more on creative content rather than targeting specific audiences.
Bonus Tip
For brands experiencing seasonality, particularly when the conversion rate is higher during specific periods, TikTok advertising can yield promising results during those periods.
Conclusion
In conclusion, Using TikTok for brands is becoming more and more important. TikTok has become a popular platform with a vibrant community of users, making it an attractive space for advertisers. With over 1 billion active users worldwide, TikTok offers various ad formats to capture users' attention and promote products or services.
NUTSHELL

Advertisers should focus on capturing attention within the first few seconds, selecting suitable sounds for brand recognition, including a compelling call-to-action, leveraging user-generated content, defining goals and target audience, collaborating with TikTok influencers and tracking and analysing ad performance.
By following these (creative) best practices, businesses can effectively reach a younger audience and maximise their return on investment.
Serious online marketing for serious online sales