4 min
read

Updated on 1st December 2021
1st December 2021
01-12-2021
Microsoft has rebranded Bing Ads, whose market share stood at around 4 % in 2019, to Microsoft Ads and announced numerous new features and advertising tools in the Microsoft Advertising product news.The news and insights delivered included video extensions that allow advertisers to test their visual ads in search and newly launched multimedia ads.Microsoft is further attempting to amplify human ingenuity with its AI advertising options.
So, what does the future hold for Microsoft Ads, and what should advertisers know about? Here is all you need to know.
Microsoft Aims for Parity with Google and Innovation in the Advertising Market
Apart from the unbeaten market share of the Google search engine, the diversity of advertising options is another reason why advertisers prefer Google for advertising. Google Search Ads, Shopping Ads, Smart Shopping Ads, and Google Display Ads are some of the advertising options Google offers.
In contrast, Microsoft didn't offer many choices to advertisers. This will now change, as Microsoft now offers various types of advertisements powered by AI. Let's look at the several advertising options offered by Microsoft, as discussed in their product news and insights.
Multimedia Ads
The latest Microsoft Advertising product is the new responsive paid search ad type called Microsoft Multimedia ads. These ads combine your images, headlines, and body copies using AI to create relevant and attention-grabbing ads. Microsoft Multimedia Ads are very similar to Google's Responsive Search Ads, where you can create multiple headlines and descriptions, the ad network will automatically select the best combination.
Microsoft Multimedia ads take the concept of responsive search advertising a step further by allowing advertisers to add rich visual assets to their ads. Advertisers and Microsoft store education enterprise developers can include images in four aspect ratios: 1.91:1, 1:1. 1:2, and 4:1.
Only one multimedia ad can display on Bing search results at a time. This exclusivity is likely to attract a lot of advertisers and enable more aggressive bidding for ad placement.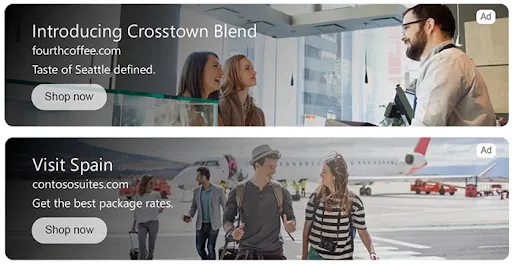 Dynamic Remarketing Expanding
Microsoft products have now expanded the scope of vertical feeds Dynamic Remarketing, allowing more advertisers to reach customers who are ready to buy. Earlier, Dynamic Remarketing ads only supported retail, hotels, and vacation rental businesses. Now, Microsoft has expanded the support for travel (tours and activities), entertainment (events), e-commerce, and automotive (listings).
Dynamic remarketing works similarly to Google Retargeting. When a user visits your website and interacts with a product but doesn't complete the purchase, ads with the same user ID will be displayed to them.
Tours and Activity Ads
As the impact of the pandemic continues to subside, travellers are getting out of their homes. However, the travelling behaviour has changed, with travellers being more conscious and prioritising sustainable travel.
Microsoft has introduced a new ad type – Tours and Activities Ads – that allows travel businesses to reach these conscious travellers. These ads are feed-based and intent-driven, and they are triggered when a user searches for a particular type of activity in a certain location. Advertisers can also leverage engaging premium placements to drive more engagement.
Facebook Ads Import
Microsoft allows advertisers to seamlessly import their audience campaigns from the Facebook Audience Network to the Microsoft Audience Network. This enables advertisers to save time and maximise ROI by importing audiences instead of creating new audiences. You can use Facebook Ads Import as a standalone tool or along with your Google Import strategy. Currently, Facebook Ads Import is available to every advertiser and education enterprise developer company in the US, the UK, Germany, France, Australia, and the UK.
Dynamic Ads with Static Headlines
If you're looking for a holistic advertising strategy to achieve broader query coverage, you should be using Dynamic Search Ads (DSAs). DSAs help you increase your search marketing consciousness and connect with more customers interested in your products and services.
The static headlines functionality allows you to select a specific headline you want to display in your DSAs. You can also specify the description used in the ad copy. Thus, you can have complete control over your advertising goals and products.
Microsoft Wants to Change Digital Marketing for the Better
Amid the rising dominance of Google Ads, Microsoft is penetrating the ad space with an attempt to change digital marketing. Let's look at how Microsoft is revamping the advertising and digital marketing industry.
Leverage Microsoft's Tools, Insights, Industry Trends, and Audience Network to Create More Effective Event and Seasonal Advertising
Microsoft Advertising offers a comprehensive range of ad tools that enable advertisers to deploy the right advertising strategies, improve ad performance, and drive more leads, conversions, and business growth.
Some popular tools offered by Microsoft Advertising are:
Ad Editor

Keyword Planner

Microsoft Advertising App

Automated Bidding

Ad Preview Tool

Campaign Experiments

Microsoft Advertising Scripts

Recommendations Tab

Competition Tab
Additionally, Microsoft's Audience Network makes it easier to reach a unique audience in a brand-safe native manner. It enables you to reach your audience in IAS-certified brand-safe sites and drive personalised engagements to achieve your solutions advertising goals.
Microsoft also offers Microsoft Advertising Insights, a free-to-use portal where advertisers can get the latest Microsoft marketing and advertising trends and insights delivered to your inbox.
All these tools and features combined make Microsoft Advertising a future-centric advertising platform for every advertiser and developer. This is especially true for a new enterprise developer company Microsoft who are looking for an effortless way to leverage advertising to accelerate business growth.
Marketing with Purpose: A Course for More Successful Brand Development
Microsoft has introduced the Marketing with Purpose course that enables brands to accelerate brand development and business growth in an easy, effortless, and authentic way. The course covers new Microsoft store education, data-driven actions, and marketing tactics one should implement to drive sustainable business growth and reach more customers.
The course helps advertisers:
Understand how to include Marketing with Purpose in their advertising strategy

Build in-depth, meaningful customer relationships that support business growth

Uncover untapped advertising opportunities to reach your targeted audience in innovative ways

Leverage extensive marketing insights to drive your marketing efforts in the right direction

Earn a Marketing with Purpose badge and showcase your expertise and knowledge
Get Better Control Over Your Marketing
A significant benefit of using Microsoft Ads is that they offer granular control over your ad campaigns. For starters, you can assign different campaigns to different time zones and develop sophisticated ad scheduling strategies.
Microsoft Ads also offer better device targeting options. You can adjust your bids for mobile devices while excluding tablets and desktop searches. Furthermore, an advertiser or store education enterprise developer can also target mobile devices based on operating systems.
Microsoft Ads provide more control and transparency over search partner targeting. You can target particular search partners, like Bing and Yahoo, or even just search partners at the ad group level.
Lastly, Microsoft Ads allow you to control search demographics. You can control which age and gender demographics see your ads.
Conclusion
In this July update, Microsoft has announced various new advertising tools and features. Microsoft was never a bad option for advertising, but the advertising options were limited. Now, as Microsoft introduces AI-based multimedia ads and intelligent, responsive ads, advertisers are likely to increase their investment in Microsoft Ads.
Serious online marketing for serious online sales