What Is Google Analytics?
Google Analytics is a marketing analytics platform by Google that helps you get a deeper understanding of your customers. It uses JavaScript code to track and collect information from websites. After collecting the data, Analytics converts it into a readable form and shows it on the Google Analytics dashboard.
Here is a quick snapshot of the Analytics dashboard: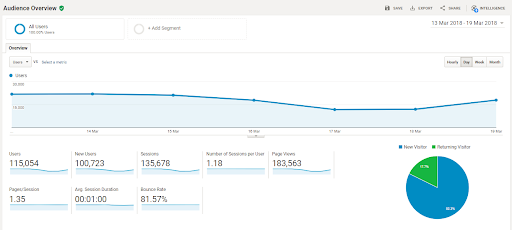 By default, Google Analytics shows you total Users, Sessions, Conversions, and Conversion Rate on your website in the last seven days. It also allows you to generate Audience reports, Acquisition Reports, Behaviour reports, and Conversion reports.
The essential features of Google Analytics are:
Traffic reporting
Conversion tracking
Keyword referrals
Custom dashboards
Third-party referrals
What Is Google Tag Manager?
Google Tag Manager is a tag management system (TMS) that allows you to add and update measurement codes and other code fragments, collectively known as tags, on your website. These tags perform several functions, such as site analytics, conversion tracking, remarketing, and more.
The key features of Google Tag Manager are:
Asynchronous tag loading and server side tagging
Support for mobile apps and accelerated mobile pages (AMP)
Tag pausing, blacklisting, and sequencing
Integration with other Google tools
Google Tag Manager also has a Chrome browser extension – Google Tag Assistant – to verify your installed tags on webpages.
Google Tag Manager vs Google Analytics: The Difference
Both Google Analytics and Google Tag Manager are a part of the Google Marketing Platform and help you make your marketing more effective. However, if you are new to the Google Marketing Platform, differentiating between the two platforms and realising their unique uses and benefits can be challenging.
Let's simplify things for you. Here is a quick comparison between Google Analytics and Google Tag Manager.
And if you're eager to know who is the winner, here is a spoiler. Google Analytics and Tag Manager don't replace each other; they're meant to work together.
Google Analytics Is a Data Source and Analysis Tool for Websites & Apps
Google Analytics is a data source. It collects information regarding your website, campaigns, users, devices, sources, etc., and sends it to the Analytics dashboard in a comprehensible form. It provides reports on website traffic, conversions, conversion rate, funnel performance, and more.
Since Google Tag Manager is not a data analysis tool, it doesn't report on website traffic data, and thus, it doesn't provide any insights.
Google Tag Manager Is a Container for Tags, macros and rules and Marketing Tag Manager
The Container can hold multiple analytics and marketing tags, along with their triggers and variables. Google Analytics Tracking code, Facebook Pixel Tracking code, and Google Ads Conversion Tracking code are all marketing and analytics tags.
A container enables the implementation of such marketing tags (not just Google tags) on a website. For example, if you want to set up a Google Analytics tag or Facebook Pixel on your website or mobile app, you can do it using Google Tag Manager.
Additionally, Google Tag Manager allows you to edit, enable, disable, and delete any tags within the container. You can configure the tags based on when and where they should fire or not fire and what they should do if they get fired.
In a nutshell, Google Analytics is a web data analytics platform that provides performance and engagement insights on your website. On the other hand, Google Tag Manager is a platform that allows you to set up and manage among others Google Analytics tracking on your website or mobile app.
Can You Use Google Analytics with Google Tag Manager?
The best thing about Google tools is that most of them can work together. The same goes for Google Analytics and Google Tag Manager. If you're tired of manually adding Google Analytics tracking codes to your website, you can integrate with Google Tag Manager and add and update codes effortlessly.
By combining Google Analytics with Google Tag Manager, you can develop a sophisticated marketing configuration that allows you to:
Add and manage several marketing tags at once
Trigger events without coding
Define conversion metrics and advanced goals
Test features before deploying them on your site or app
Top Reasons to Use Google Tag Manager
So, what's so special about Google Tag Manager? After all, all it does is allow you to add marketing and analytics tags to your website, which you can do manually.
1. It's Free to Use
Google Tag Manager is free to use. You can use all its robust features, including accounts and user roles, usability, and supported tags, for free.
2. Ease to Set Up and Use
Google Tag Manager puts the control in your hands. You can add tags and make changes to them effortlessly. There are several debugging tools and a preview mode, allowing you to test everything before finalising it.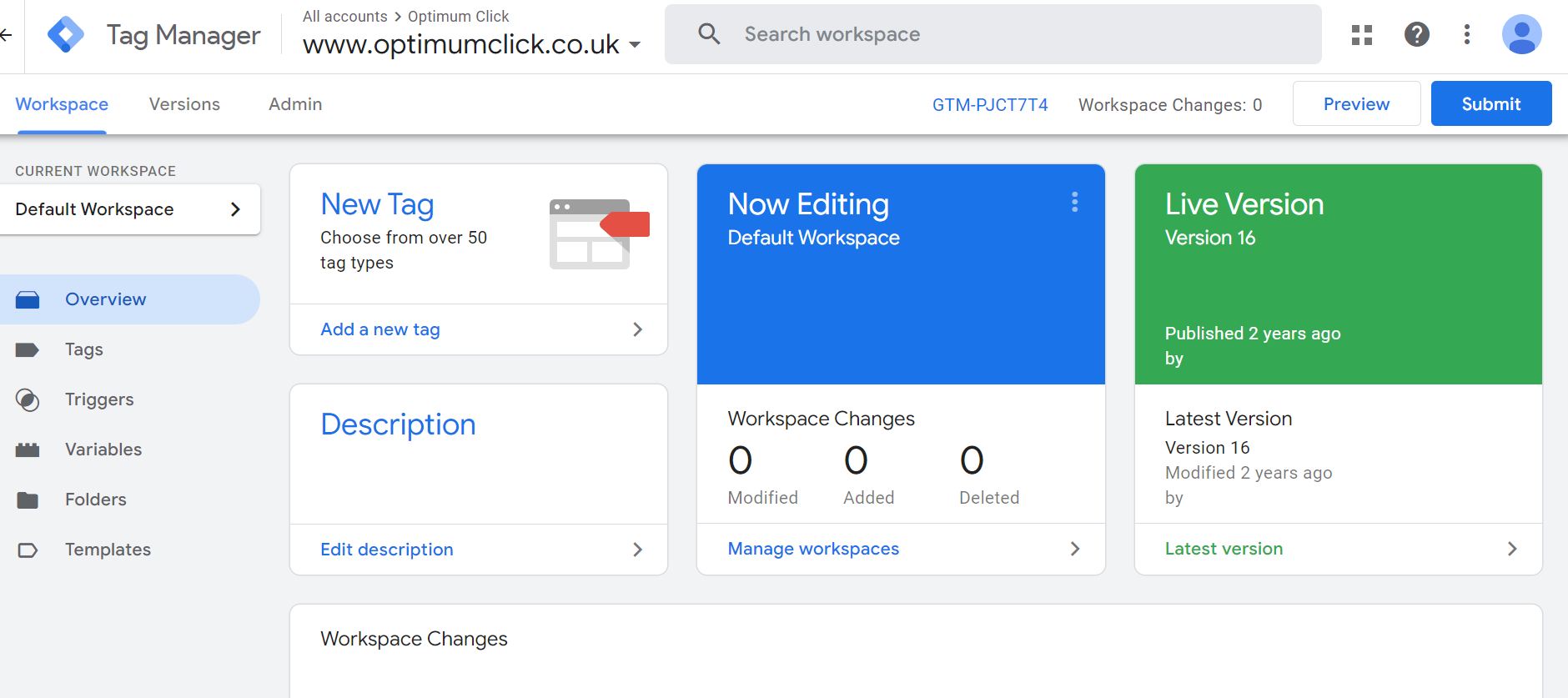 3. Leverage Tag Management Better
The scope of integrations in Google Tag Manager goes beyond Google Products. You can integrate third-party tags like comScore, Marin, and AdRoll. You can even create custom tags in case a predefined tag doesn't fit your needs. Google Tag Manager also allows you to add tags to your Android and iOS apps.
4. Unleash the Potential of Google Analytics
Google Analytics has some helpful features, but they can be tricky to use. For example, User ID tracking enables you to track and measure cross-device user behaviour. This way, you can get more accurate user insights and offer a better customer experience. However, setting it up can be a hassle.
Google Tag Manager allows you to set up User ID tracking, cross-domain tracking, custom dimensions, and other common attributes effortlessly. Moreover, you can set up tags for multiple sites and track them together.
5. More Tracking Capabilities
Even though Google Tag Manager doesn't track and collect data, it can help you track and collect more data. You can use Google Tag Manager to track YouTube videos, AJAX form submissions, and print tracking.
6. Leading-Edge Security
Google Tag Manager has top-notch security features. You can enable two-factor authentication to strengthen your account's security and eliminate the risk of unauthorised logins.
7. Test Your Versions Before Publishing
Google Tag Manager comes with debug options, version controls, and built-in error checking to allow you to test everything you do with your tags.
Consent Management with Google Tag Manager
With people buying online more than ever, businesses have numerous opportunities to reach new customers and build meaningful relationships. However, the restrictions around identifiers and cookies make it difficult for businesses to map the customer journey.
Google Tag Manager's consent experience feature allows you to understand your customers better while respecting their consent choices.
Here's how you can manage consent choices with Google Tag Manager.
Integrate GTM with Consent Management Solution
The UK, the EEA, and several other regions require you to seek user consent for numerous operations. You'll need a consent management solution, like Piwik PRO Consent Manager or TCS Consent Management Solution, to operate in those areas. You can integrate your Tag Manager with your consent management solution to overcome this hassle. After integrating the two tools, your tags will require user consent before firing.
Create Custom Tags Based on Requirements
The custom tag set-up feature in Google Tag Manager allows businesses to create custom tags based on consent requirements. You can check the consent requirements of each tag and determine if any additional consent is needed for each tag to execute.
Gain a Holistic View of Content Settings
The Consent Overview feature in Google Tag Manager provides a comprehensive view of consent settings. It allows you to manage consent settings in bulk, and you can also add personalisation storage consent types to various tags.
How to Configure Google Analytics with Google Tag Manager?
Having discussed the importance, functions, and benefits of Google Tag Manager, let's delve into a step-by-step process of configuring Google Tag Manager and Google Analytics together.
Set Up Google Analytics with Google Tag Manager
The first step is to set up Google Analytics and Google Tag Manager individually and then integrate them. Here's how to do that.
Set Up Google Analytics: Setting up Analytics is simple. Obtain your Google Analytics tracking code and paste it in the <head> tag of every page of your website.
Google Tag Manager Setup: Create a Google Tag Manager account. You will be provided with a code that you need to paste in the <head> tag.
Install Analytics with Google Tag Manager: You are now ready to add your first Google Analytics Tag using Google Tag Manager. To do that, click on "Add a new tag" and choose Google Analytics – Universal Analytics in tag type. Choose Page View as the track type. Now, choose a setting variable, create a new variable named Google Analytics Settings, and enter the GA tracking ID and set the trigger to be fired on All Pages .
You're all set. Click on the Submit button for your changes to go live.
Conclusion
Google Analytics and Google Tag Manager go hand in hand. Google Tag Manager provides more settings compared to GA and allows you to include other tags such as Facebook Pixel to your website's code. This enables better data functionality and allows you to improve your data collection and analysis efforts.