8 min
read

Updated on 23rd August 2023
26th May 2023
26-05-2023
If you're thinking of advertising on Facebook, there are a few things you ought to know:
Facebook took in more than $113 Billion in ad revenue in 2022 - a new record.

Users check out an average of 12 ads per month.

The average CTR for Facebook ads across all industries is just 0.90%.
You're here because you want to know one thing: what's the best time to run Facebook ads?
Here's the answer:
Every day is a good day. Every moment is an opportunity.

Let's explain ourselves and then show you some data to prove it.
There Is No Perfect Facebook Ad Campaign Time
We know you want to believe there is a perfect time for your ad to run because you want significant results. Wishing doesn't make it so.
Let's show you some stats and one possible "ideal time" and then tell you why it doesn't matter so much.
Stats first.
The most popular day for online shopping is Sunday. This is true in the US, the UK, and across multiple websites. Saturday is the 2nd most popular.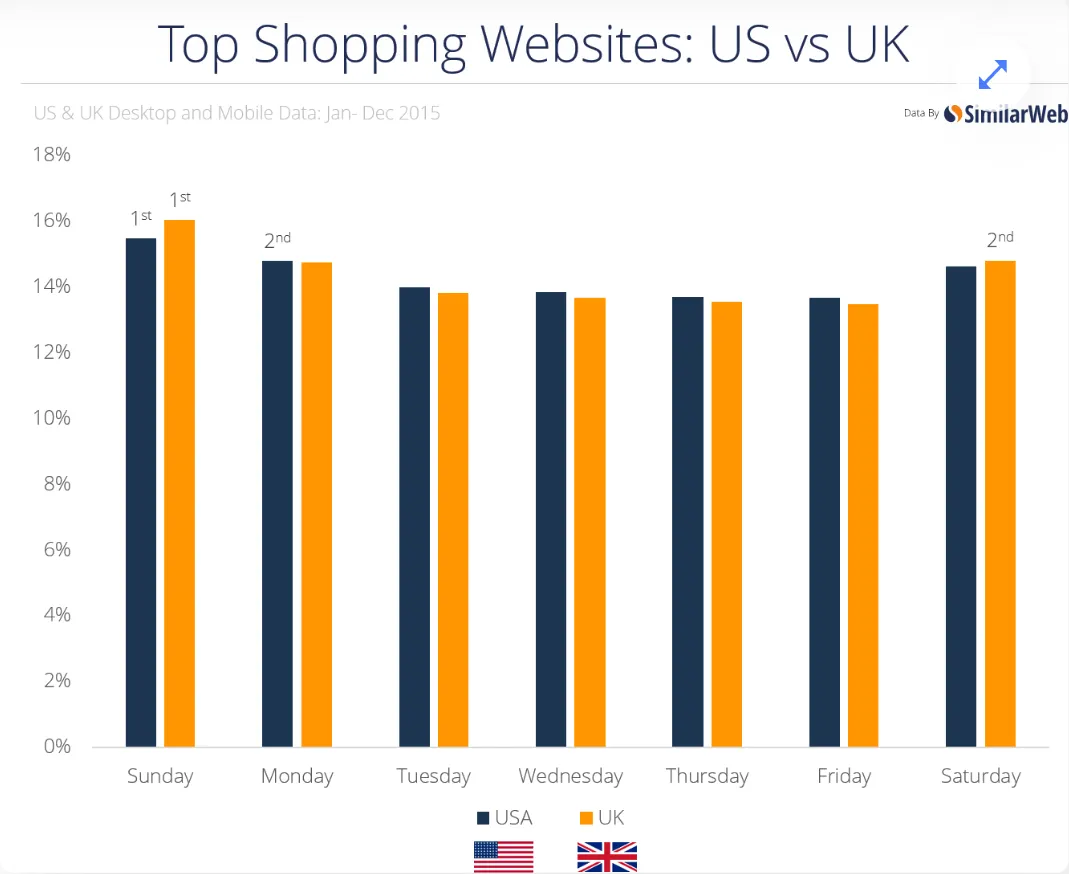 So, look at that graph and set up your Facebook ads to run on the weekends.
Simple, right?
Wrong.
81% of people do thorough research before making online purchases. The more expensive your products, the more research they're going to do before buying.
The purchase might happen on a Sunday but the customer journey started on a different day.
If we want to say anything definitive about the best time to run Facebook ads, it's this:
Run your ads when your target audience is awake.
The best time to post ads is when people are awake and watching them.
How to Be More Effective at Facebook Ad Campaign Scheduling
There are really two things to keep in mind when deciding the best time to run Facebook ads:
The intent of your Facebook ad.

Insights you've gained into your target audience.
So let's break down each one of these and see how they could make your Facebook shopping campaigns and ad scheduling better.
You're Running Ads. What Is Your Campaign Objective?
Facebook marketing is about getting new customers, making sales, and become rich. Each ad campaign is a little different, though. You should ask yourself, "Why am I running this ad?" The conversion goal will help you determine the best time to run ads.
Here's an example of two different purposes and the way it affects timing:
The Egg Timer company wants to sell simple egg timers. These are cheap and cheerful products designed to be bought on impulse as a kitchen gadget. The best time to run ads is probably Saturday and Sunday because people are more likely to make an impulse purchase.

The Fancy Car Accessories company wants to drive more traffic to its page and generate some buzz. They've created a super video and want to run ads with this video. The best time for them to post on Facebook is probably Monday, Tuesday, or Wednesday at noon.
Your ad's intent will create different social media marketing strategies. So, ask yourself, "Why am I running this ad?"
Audience Insights and Facebook Ads Manager Will Boost Your Engagement
Where do you find data to plan the best time to run ads? There are three places you can look.
Facebook Analytics: Even though it's no longer called Facebook analytics, there are still strong tools for receiving and analysing data on Facebook/Meta. Meta's business suite, ads manager, and event manager are useful tools for those who are running ads on Meta platforms such as Facebook and Instagram.

With business suite, you can manage your pages and profiles across different apps, create and schedule posts, view insights and messages, and access other business tools.
Using ads manager, you can create and edit ads, manage your budget and targeting, track your campaign performance and optimize your results.
For advertising events, turn to event manage. You can set up and monitor your integrations such as the conversions API, Meta pixel and Facebook SDK for iOS and Android. You can also compare activity across your sources over time and create audiences based on your events.

Meta Pixel: The Meta pixel lets you track conversions across your ad campaigns. Without this, you can't see when you've done the most sales, received the most email sign ups, or had the best conversion rate. You'll need this tool to gain a deep understanding of the right and wrong time to run Facebook ads.

Google Analytics: This is the tool used by almost every digital marketer to understand what is happening on their website. You can see common industry statistics about your website like total views, conversion rates, and bounce rates. You can track conversions and times by tracking the hits on a "Thank You" page or "Checkout Completed" page. These click insights will help you understand the peak times for your business.
These tools will give you an excellent picture of your business and when you already receive the most engagement. You can use this to create a set schedule to apply across multiple social media outlets and advertising campaigns.
Best Time to Post Facebook Ads by Industry
The best time to run Facebook ads differs by industry. People who run successful ads know this and schedule their ad creative slots for the peak time in their industry. Here is a rough guide to the best advertising schedule for each business industry.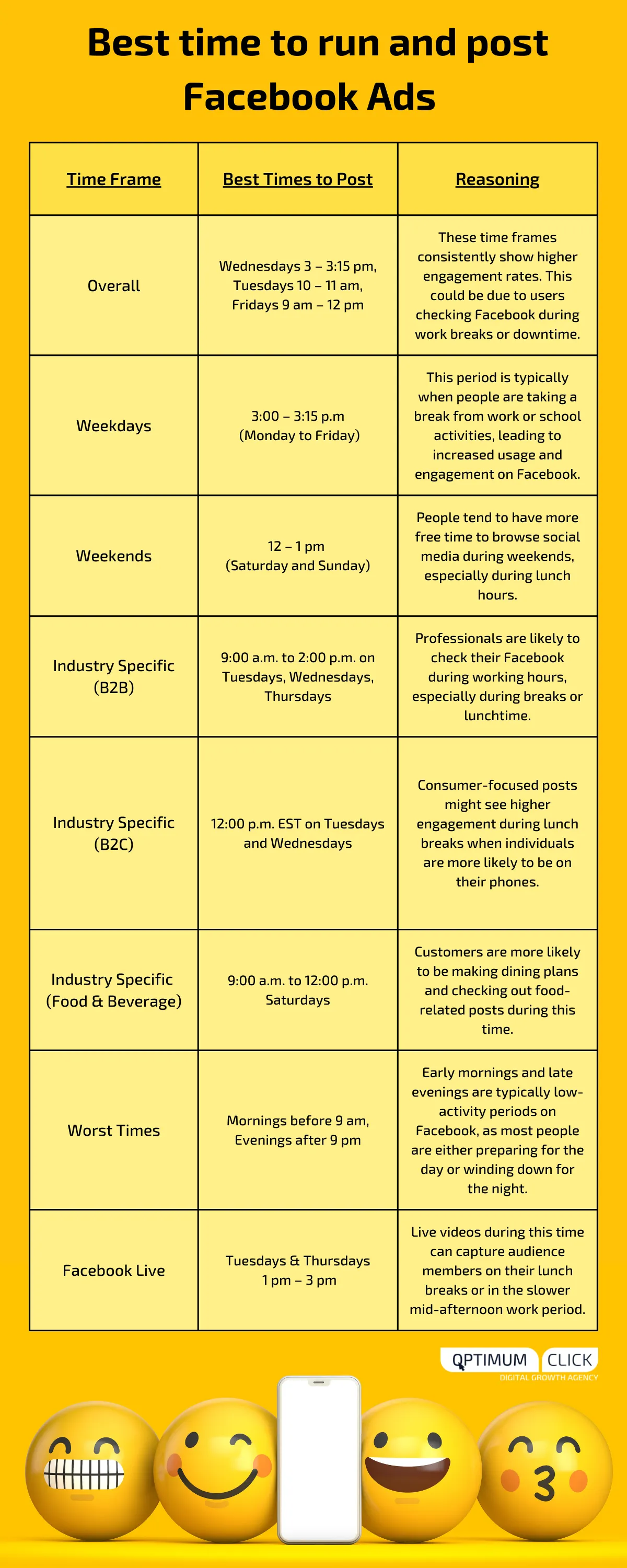 Here's How You Can Advertise on Facebook Effectively
Before we get to the part where you set up a schedule and run your ads, we should make sure you've covered the basics of how to advertise on Facebook.
We've already mentioned the next two points, but it's worth repeating them slightly differently.
You must know the goal of your ad campaign. Don't run ad sets just to do something. Pick some goals like email sign ups or product sales and design your ad sets for these goals.

You're going to have to know your target people. If you've nailed your understanding of the people you are targeting, then you'll already have good ideas for how to reach them.
Create a Facebook ad checklist
With those two things in mind, we think you should create a checklist to help you evaluate your work before you publish those ads. Here's what we do:
Segment the target audience. Divide your targets up by location, age, gender, interests, and spending. There may be even more useful segments for your business to create custom audiences.

Match your words with your images. First impressions matter. Make your title, description, images, and even colours match so people get a strong brand impression right away.

Hone your CTA. The call to action is one of the most important elements of your ad. Think it through, try out a few options, and don't ask people to do more than one thing at a time.
If you've managed all these things, you probably have a good ad ready to go. Before you fire it off though, have you thought about different types of Facebook ads?
4 Key Types of Facebook Ads
You can advertise all kinds of things in different ways on Facebook. You can even pay just to show people your page. That doesn't mean they're going to like it, though.
Instead, we recommend focusing on these four types of ads:
Facebook video ads: 60% of marketers agree Facebook video ads generate more engagement and traffic. Facebook wants to be video first, so cooperate and make some video ads for your business.

Facebook carousel ads: Carousels work better than single image ads because they provide more depth and context for the user.

Facebook Instant Experience ads: Instant Experience ads are exclusive to mobile advertising. They combine video, images, and interactive elements. They create super high engagement on mobile devices in the right industries (fashion and tech).

Facebook lead ads: Lead ads aim for a newsletter or email sign-up and lead generation. This can help your customers engage with you without leaving Facebook.
Should You Run Your Facebook Ads on a Schedule?
Yes. We know we said there's not a best time to run ads, but we still think you should use a schedule. This is especially true if your Facebook ads are not working. Let's dig into why we think scheduling ads for Facebook is a good idea.
Do What's Best for Your Business
There is no ideal time to run Facebook ads for everyone. There could be an ideal time for your business, though. As we've mentioned, use your historical data to work out when you get the highest engagement. Use this same time as a starting point for your advertising.
Segment Your Audience by Times and Test
The best way to get solid data is to run tests. Utilize the insights to determine the optimal times. Then split your ads into a few groups and run them at different times. You could even change up the images, colours, and tone of the ads to target different times. Then analyse your own data and change accordingly.
What about ad changes due to IDFA and privacy policy updates?
In April 2021, Apple released iOS 14.5, which includes a new feature called App Tracking Transparency (ATT). ATT requires apps to ask users for permission to track their activity across other apps and websites. This change has had a significant impact on Facebook's advertising business, as Facebook relies on user data to target ads.
In addition to ATT, Facebook has also made changes to its own privacy policy. These changes make it more difficult for advertisers to target ads to specific users. As a result of these changes, Facebook advertisers are seeing a decline in the effectiveness of their ads.
Here are some of the ways that Facebook ads may change in the future:
Less precise targeting: Advertisers will no longer be able to target ads to specific users based on their interests, demographics, or past behavior. This will make it more difficult to reach the right people with the right ads.

Increased costs: Advertisers may need to pay more for ads in order to reach the same number of people. This is because Facebook will need to find other ways to generate revenue, such as charging advertisers more for ads.

A focus on performance: Advertisers may need to focus more on measuring the performance of their ads, rather than targeting specific users. This is because it will be more difficult to track the effectiveness of ads that are not targeted.
Overall, the changes to Facebook's advertising business are significant. Advertisers will need to adapt their strategies in order to continue to reach their target audience and achieve their marketing goals.
We have two guides to help businesses and advertisers plan their next moves:
Cookieless Tracking: GA4 Advertising Solutions

IDFA in iOS 14: How it Affects Facebook and Cookies
Conclusion
There you have it - a comprehensive guide to scheduling your Facebook ads for maximum impact. Remember, the best time to run your ads depends on your industry and target audience. By utilizing the tools and strategies we've discussed, you can optimize your ad campaigns to achieve better results.
If you're still unsure or would like expert guidance, Optimum Click is here to help. Take advantage of our free ad account audit and reach out to our team of professionals for a tailored proposal. Together, we can elevate your digital marketing efforts and make your Facebook ads more effective than ever. Visit our contact menu today to get started!
Serious online marketing for serious online sales