3 min
read

Updated on 3th March 2016
3th March 2016
03-03-2016
In this article we'll show you:
Why there's so much more to strong PPC than finding a good keywords
What other factors influence success
How to optimize campaigns for faster, better ROI
Why good keywords is not enough
Simple – because PPC success is so much more than just keywords .
It's about users and even more importantly… it's about understanding their intentions and working endlessly to help meet them.
A Londoner iPhone searching at 8am on a Monday morning will have a vastly different intent to someone in Loughborough using his PC at 11pm.
Wherever each of them is in their respective conversion funnel it's important that you greet them in their specific context.
A strong keyword in itself won't convert if other unoptimised parameters are left in place to block your conversions
BUPA example
In the example below Bupa.co.uk is advertising for 'emergency dentist open sunday'. On the ad they included 'Mon-Fri'. A logic fail that quickly becomes a conversion fail as no, they dentist obviously isn't open on Sundays. Clear user intent has been ignored.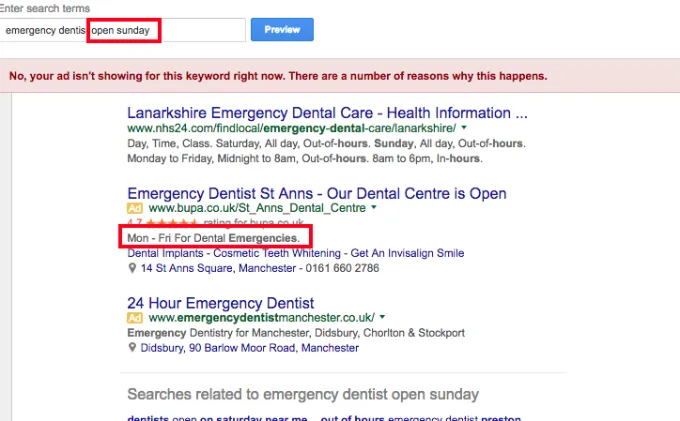 A John Lewis example
And what about this John Lewis example?
Advertising 'black washing machine' the user is automatically taken to the 'regular' washing machines page and displayed a bunch of white washing machines. Not black as sought by the user – just the All Washing Machines page displaying most of not all are white. More interference between intent and conversion, more funnel fallout. Lower ROI. Not good PPC.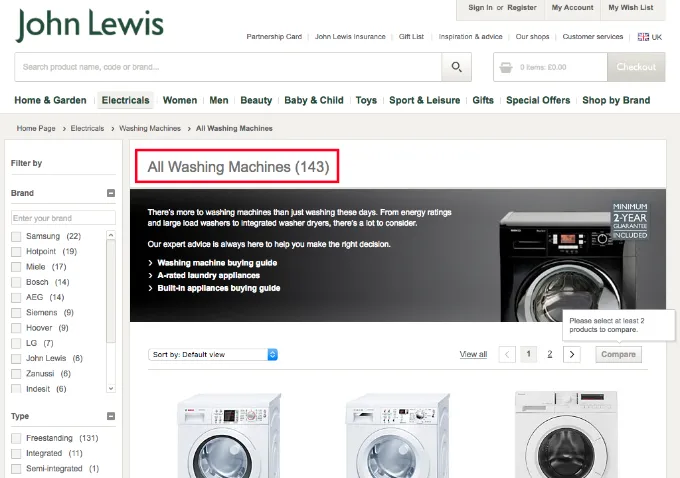 Props though to AO.com – the only company targeting this term properly.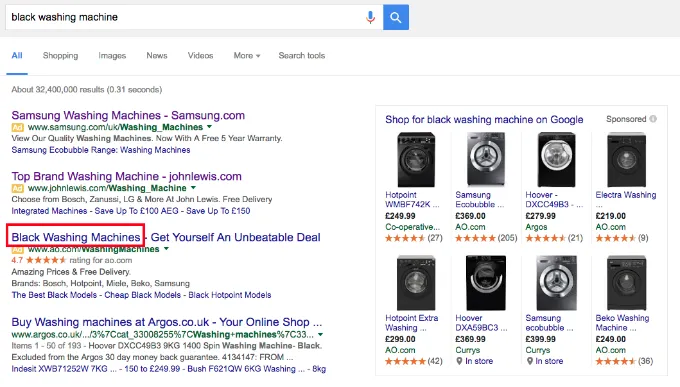 A keyword itself is only a small part of the sales process . Not the totality. If your ad text is weak or your landing page lacking your potential sale is hugely compromised.
If you're going to the trouble of targeting potential buyers of 'black washing machine' than do yourself a favour and make sure the ad text is tailored to that term to try and persuade people to click on your ad.
Even then unless your landing page is 'intent specific' you're distorting the funnel. Shoppers want to shop. And if you send them to inappropriate landing pages you're leaving money on the table.
Keywords, ad text and landing pages work as one. A holy PPC trinity.
What other factors are out there?
So what other factors should you consider, measure or modify when building a good PPC campaign.
Conclusion
Keyword research for PPC is chalk. Organic SEO keyword research is cheese. Be wary of the vast majority of keyword articles out there as most fail to properly address PPC. Focused on generating content for SEO purpose they're designed to help generate fresh PPC business.
Bear in mind too that short keywords and keyword phrase are powerful – they work. It's how people tend to use the search engines when they want something in a hurry. Rather than type a whole sentence to find a service they just type the minimum amount necessary find a solution or a product.
Struggling to find better converting keywords for your business?
Wonder whether your PPC could perform better?
Contact Us. We'll tell you everything you need to know.
User location
Running a local business? A bakery or a flower shop for example? Then think local. As delicious as your carrot cake is, who's going to travel 50 miles for a slice? Ummmm no-one?
And there can also be huge differences between different parts of country. We're currently managing a campaign targeting university students, unsurprisingly the conversion rates are way higher in Cambridge, Oxford and other big university cities than anywhere else in the Britain.
And there's an additional Google Adwords setting that complicates things even further. The fact you can target campaigns based on both physical location and location of interest.
Location of interest is the default option. That doesn't mean it's always the best though. For example your London based ad might appear for a user in India or Thailand using a keyword such as 'dentist london cost'. It's very unlikely that they would turn out to be genuine prospects.
Device
Let's pick a keyword like 'nike air max thea'. If we know users are using these terms from home at 10pm then chances are they're searching because they want to buy the trainers from an ecommerce shop.
But if a mobile user using the very same keyword 2pm Saturday we can't be so sure about he is looking for ecommerce shop or he is looking for the closest retailer where he can try out these shoes and buy on the spot.
Time of day/Day of the week
Another common mistake is that people tend to run their campaigns all day round. Fine for capturing impressions. Not so great for conversions – unrewarding impression costs eating into more budgets for more rewarding times of the day.
For most B2B business weekdays are significantly stronger than weekends. It's far less likely that an office runs out of print toner on Saturday or someone decided to research PR agencies. Never a complete washout we wouldn't recommend completely stopping weekend ads but we will recommend keeping your eyes focused and probably lowering weekend bids.
There are also huge differences between different times of the day, though you'd be wise to collect plenty of data to make informed decisions. Don't adjust bids based on just 1 or 2 conversions at a particular time – do check reports at least monthly and tailor bids to and ad timings as required.
How can optimize your campaigns for better ROI?
A little common sense and experience goes a long way. For example your client doesn't offer 24hr plumbing work then you'd be sensible to not run 24 hr campaigns.
Empathy helps too. Enormously. Pathological empathy. Always put yourself in the user's shoes:
Does my ad offer a solution for that keyword?

If I were the user why would I choose this my ad against the other three?

Does the landing page give me enough information?

Does landing page specifically relate to my keyword? It's just about something else, a broader or slightly different topic?
Unless you can offer a categorical yes to all these questions you've failed to unlock all your keyword possibilities. And if you haven't unlocked every keyword possibility then you'll never know if it's really worth advertising for that keyword or not.
Looking for a little objective input on your campaigns? A second opinion? A little expert guidance on driving maximum ROI?
We can help.
Serious online marketing for serious online sales