5 min
read

Updated on 1st September 2021
1st September 2021
01-11-2021
PPC advertising is, therefore, one of the most effective ways to increase awareness, reach new customers, and get sales during the holiday season.
However, advertising in the holiday season is competitive, as every small, medium, and large retailer is spending money on advertising. How do you fight this competition and get more sales?
Follow this guide to holiday advertising to get started.
Why Should You Advertise During Holiday Season?
One in three shoppers makes a holiday purchase after seeing product promotions. You might already have an ad campaign running, but it's essential to have dedicated holiday marketing campaigns.
From the shopping perspective, the holiday season is the busiest time of the year. People are ready to spend more during holidays. They could either be doing last-minute gift shopping or shopping for themselves in bulk to get a better deal. The estimated value of online retail sales during Christmas 2020 was €41.65 million - more than half of the total retail sales.
In a nutshell, shoppers spend more during the holiday season, and you should leverage it by running holiday advertising campaigns. You can benefit from holiday campaigns in various ways, including:
Increase brand awareness

Attract new customers

Separate from competition

Generate sales
Why Do You Need a PPC Strategy that Stands Out?
Since holiday advertising is critical for businesses, every retailer runs holiday campaigns. Google's annual ad spend growth increased by 12% during the 2020 holiday season (Q4), while sponsored product ad spending on Amazon grew by 57%.
Advertisers must consider the following things when building a holiday campaign:
Impulse purchases increase during holidays; however, these purchases aren't truly "impulse." Most customers will perform a quick search online to see who is offering the best deal and discount.

Specialized, high-intent searches increase during the holiday season. Shoppers could search for "Black Friday sales" or "Cyber Monday deals." These searches have high buyer intent, and advertisers must tailor their campaigns to align with them.

More retailers advertise during holidays, increasing the average cost-per-click (CPC).
You need to have a specialized holiday PPC advertising strategy that complies with these points.
Achieve Better Outcomes with These PPC Advertising Techniques
As advertising competition increases multifold during the holiday season, advertisers need to develop an effective advertising strategy that outshines the competition and convinces prospects to buy. Here are nine proven PPC advertising techniques to help you kickstart your holiday shopping campaign.
Review Your Past Holiday Marketing Campaigns
If you ran a holiday marketing campaign last year, analyze its performance and the strategies and tactics that generated the best outcomes. A few things to review are:
Target keywords

Ad designs

Ad types

Channels

Audiences
If certain audiences, keywords, or ad designs produced better conversions, you could include them in this year's advertising strategy. Likewise, if a particular audience, ad type, or keyword didn't perform well, you can leave them out.
However, techniques that worked the previous year may not essentially work this year. Allocate a portion of your marketing budget to develop and test new strategies to achieve better outcomes.
Understand Your Attribution Model
An attribution model is a marketing framework based on the channels and touch points responsible for driving conversions. Each attribution model generates conversions differently across touch points.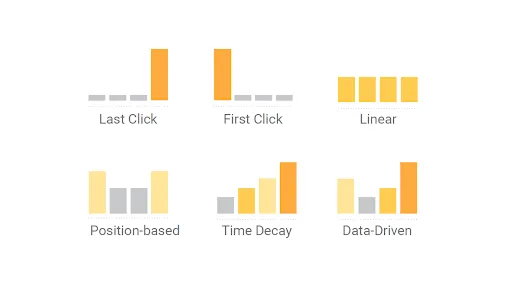 Attribution models are of the following types:
First Interaction: The channel where a customer first interacted with your brand gets all the credit for the conversion.

Last Interaction: The last channel a customer interacted with before purchasing gets all the credit.

Last Non-Direct Click: The last non-direct channel (i.e., the traffic source) gets the credit for the conversion.

Linear: All the channels a customer interacted with before buying get equal credit.

Time-Decay: All channels get the credit; however, the most recent channel gets the highest credit.

Position-Based: All channels get the credit; however, the first and last channels get a higher credit, and the channels in between get a lower credit.
You could follow this guide to marketing attribution models for a better understanding.
Understanding your attribution model helps you realize which channels and touch points are influencing conversions. This way, you can avoid overspending on certain channels and distribute your advertising budget wisely.
Increase Visibility with Holiday Keywords
As mentioned, shoppers might do specialized searches during holiday seasons. By optimizing your campaigns for them, you can show up in high-intent searches.
For example, someone looking to gift a chocolate pack on Christmas may not search for "buy chocolate online." They will probably search for something like "Christmas chocolate gifts."In fact, this keyword had 22,000 searches in the UK in December 2020.
[run a Google Keyword search for UK location and set month as December 2020]
People who make specialized searches are looking to buy something. If you appear in these searches, you can improve your chances of getting sales.
Create or Rebuild Your Audiences
Your primary target audience during the holiday season will be gift-givers, who differ from your regular customers. Gift-givers want to buy something for others, and they will be unsure about what others will like. Your marketing campaigns should convince holiday shoppers that your product is an ideal gift and their loved ones will like it.
Here's where the importance of planning your funnels comes into the picture. Your PPC ad can lead the user to a landing page that includes social proof from other happy gift-givers. Including user-generated content (UGC) on your product landing pages can convince users to make a purchase.
While acquiring new audiences is exciting, don't forget your existing customers. After all, everyone shops during the holidays. You can engage your existing customers by:
Sending promotional emails to your email subscribers

Retargeting users have been to your website before
Cross-channel targeting can be effective in engaging your existing audience. People who have visited your site and interacted with you on social media already know about you. Retargeting campaigns can help you focus on these audiences.
Facebook and Google offer effective remarketing options. If you want to reach a broader audience and increase your sales this holiday season, put aside a portion of your advertising budget for retargeting campaigns.
Increase Your Budget to Maximize Profits
All advertising platforms—Google Ads, Bing Ads, Amazon Ads, Facebook Ads—work on an action system. Advertisers bid on keywords for which they want their ads to appear, and the advertiser with the highest bid wins the spot. The more the advertisers, the higher the bid.
The holiday season sees enormous crowds of advertisers eager to spend more to show their ads. This results in the ad costs going up. The CPC begins rising in October and can increase by 140% during the holidays!
Therefore, having a bigger budget is important. For search ads and Facebook ads, you'll see the best results when you bid higher. Showing up on the top of a high-intent search result page will give you an enormous edge and increase your chances of getting a sale.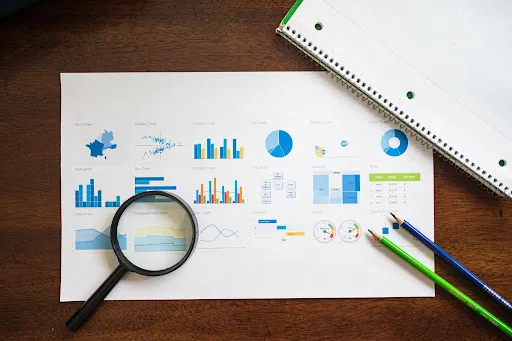 The CPC might be high, but it'll be worth it considering the average customer lifetime value (LTV). Also, you can turn a seasonal shopper into a regular customer, increasing their LTV even further. Therefore, allocate a substantial budget for your holiday marketing campaign and don't hesitate in bidding higher.
Entice Shoppers with Creative Ads and Landing Pages
If you want to sell to an audience unfamiliar with your brand, your ads must be creative and interesting. Since you are targeting holiday shoppers, the content in your campaigns should appeal to them.
You can make your campaigns holiday-specific by incorporating holiday messaging and imagery. For example, you can have Santa Claus holding your product in his hand, showing that it's a perfect gift idea.
You don't even need to change the imagery in most cases. Tweaking the headline and description of an ad campaign is enough to make it specific to holiday shoppers.
For example, suppose you sell handmade home decor items. Throughout the year, your campaign headline could be something like:
Give Your Home the Perfect Look with Our Handmade Home Decor Items
For the holiday season campaign, your campaign headline could be something like:
Buy Perfect Home Decor Gifts for Christmas and Delight Your Loved Ones
Your campaigns can be different, but you get the idea.
Use Dynamic Ad Features to Automate Your Campaigns
Most ad platforms offer dynamic ad features to make your ad campaigns more relevant. Google Ads allows dynamic keyword insertion to switch out certain words or phrases in your keyword with other phrases.
Let's say you're an apparel retailer and you are running a Google Ads campaign with the target keyword "clothes sales for the holidays."
You can set the word "clothes" as dynamic and add terms like "jeans," "shirt," and "shoes." If a user searches for "jeans sale," the dynamic keyword "jeans" will be triggered, and your campaign will change to "jeans sale for holidays."
Inserting dynamic keywords is easy. You can close the word you want to switch out in curly brackets and add other relevant keywords.
Follow this guide to dynamic keyword insertion for more information.
Simplify the Purchase Process
Most people do holiday shopping online because it's convenient and can help them save money. Shoppers have myriad options online, and if you want them to choose your brand, you'll need to give them reasons to buy from you. The best way to do that is by making the purchase process seamless.
You can take various steps to minimize purchase barriers. These include:
Use one-page checkouts, as they can increase your conversion rates by 21.8%.

Offer free shipping; 9 out of 10 customers consider it the biggest incentive when shopping online.

Offer personalized gift wrapping, so shoppers don't have to do it by themselves.

Guarantee delivery before the holidays.

Highlight your return policy.

Offer mobile-first experiences.
Launch Your Advertising Campaign Before Q4
As discussed, the shopping season begins around October-November, and advertising costs surge. If you want to maximize your sales and reduce your customer acquisition costs, enter the advertising space before others. The best practice is to start bidding before Q4, so you can receive competitive CPC rates and reach more prospects for less money.
Another benefit to early bidding is that you can create awareness beforehand. A PPC campaign takes about three months to work and show results. If you launch your campaign before Q4, you will create enough awareness and start getting sales by the time your competitors launch their ads. This will give you a major competitive edge.
Conclusion
Online retail sales during the holiday season grow every year, encouraging advertisers to spend more on holiday advertising. As the competition increases, small business owners need to build innovative strategies to get more leads and sales.
If you want to get your holiday advertising strategy right, Optimum Click can help. Get in touch with us today.
Serious online marketing for serious online sales