2 min
read

Updated on 22nd March 2016
22nd March 2016
22-03-2016
Hand on heart… how right, how nailed down are your negative keywords? As right as they could be? Or are you still wasting cash on irrelevant search terms , driving pointless, expensive traffic to your site?
There's a Hole in my Bucket
Yes of course you need the right search phrases, broad or modified broad keyword matches for your PPC campaigns, but you need the right negative keywords too. Afterall… why pour good money into the campaign bucket if there's a big bad hole on the bottom? A big bad hole that only smart negative keyword can patch up.
Let's take a look at a few real life examples.
When's a Magento Developer not a Magento Developer?
Say you're a Magento Developer. In which case "magento developer" would seem like a fair enough search term wouldn't it? All those lovely prospects out there in Googleland searching for Magento Developers to weave their Magento magic. So you add "magento developer" as a target keyword.
But what about…. "Magento developer resume" or
"magento developer cv template"?
"magento developer guide"?
"wordpress developer salary"?
"ios developer jobs"?
"android developer console"?
Wouldn't you attract searchers by job seekers? By developers? By wannabe developers? By people comparing salaries? Of course you would. Are job seekers, developers, wannabe developers and people comparing salaries going to spend money with you. Of course not. All you're doing is attracting dud searches. You're buying an inappropriate audience.
Why Waste Your Search Spend?
Take a look at the organic results for 'magento developer guide'. As you can see all the results relate to documentation and manual. There's a cat in hell's chance that anyone searching for a "Magento development company" will use this term to find a partner. Why waste your search spend?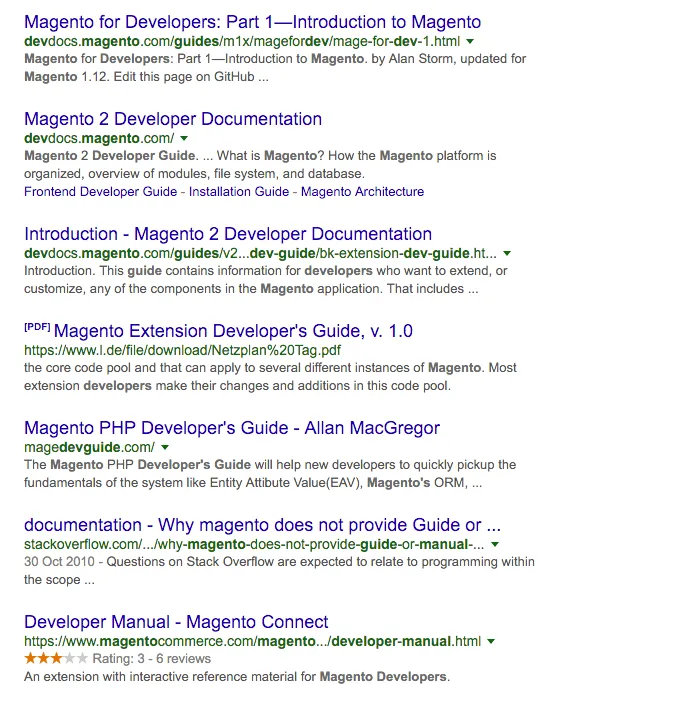 Of the two paid ads below you'll notice that both relate to Magento development. We'd wager that neither ad will attract many clicks or conversions.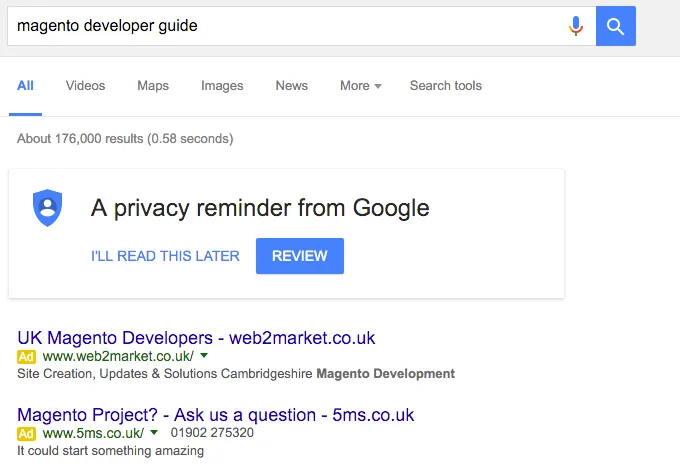 The list below can be used by web developer companies, eg. Magento, WordPress, Liferay or mobile app developers eg. iOs or Android companies as well.
Let's start with your MUST HAVES:
"can t"
"couldn t"
"cover letter"
"entry level"
"experience letter"
"experience summary"
"for beginners"
"future of"
"getting started"
"how do you"
"how much does"
"how to be"
"how to"
"i want to be"
"looking for"
"part time"
"que es"
"what are"
"what is"
about
account
api
article
basics
become
becoming
beginner
blog
blogs
book
books
career
careers
certificate
certification
community
conference
console
course
courses
crack
cv

debug
definition
degree
delete
description
disable
docs
documentation
download
downloads
dumps
earnings
ebook
email
employment
enable
enroll
error
event
events
exam
example
examples
file
files
forum
forums
free
generate
glassdoor
guide
guidelines
guides
hack
hacks
help
helper
hiring
howto

icon
icons
indeed
intern
interns
internship
internships
interview
jd //job description
job
jobs
joke
kit
learn
learning
libraries
library
license
login
logo
manual
mean
meaning
means
meme
merge
missing
news
notification
openings
pdf
podcast
podcasts
position
ppt
provisioning
qualification
qualifications
question
questions
quiz
quotes

recruit
recruiter
recruiting
register
renew
requirement
requirements
resources
responsibilities
resume
resumes
roles
salaries
salary
sdk
senior
skills
statistics
stats
student
template
templates
test
tests
theme
themes
tip
tips
tool
toolbar
toolkit
tools
trainee
training
tutorial
tutorials
university
update
video
volunteer
wallpaper
wiki
workflow
xml
young
youngest
youtube
#Keywords to consider:
"low cost"
bangalore
bangkok
cheapest
chennai
egypt
elance

fiverr
freelance
freelancer
gurgaon
hyderabad
india
indian

indonesia
karachi
linkedin
malaysia
mumbai
noida
odesk

pakistan
philippines
plugin
pune
rates
ukraine
upwork
vietnam
Don't let the poor application of negative keywords bleed your budgets dry. Think about them. Factor them in, save money and increase the quality score of your campaigns.
Negative keyword questions? Aspects of your PPC campaigns that could be clearer? Contact Us today for the latest, smartest and most profitable paid search insights and advice.
Serious online marketing for serious online sales