10 min
read

Updated on 23rd August 2023
2nd June 2021
02-06-2021
Digital marketing is crucial for the success of almost any business. But choosing a PPC agency is not always simple and there are many questions you can ask to make the best choice possible.
Don't think you need PPC management by an expert?
Here are excellent reasons to reach out to a PPC specialist:
54,4% of clicks go to the top three ads. If you're not in the top three, you're missing out.

82% of companies focus on Google Ads for their PPC campaigns. The competition is strong.

68% of paid clicks come from mobile devices. Ad campaigns not optimised for mobile are obsolete.
Not convinced yet?
What are PPC experts?
Are you hunting the next big game client? Landing the next big deal through your ad campaigns is much easier with a guide.
Think of a Google AdWords** expert like a safari guide for your PPC campaigns. They know where the best results are and they can help you find them in the shortest amount of time.
A Google AdWords expert** may have professional certifications and specific training. However, there are many creative marketing experts who don't have any certificates. They can show you pages of effective results, and that's what really matters.
** Are you still saying AdWords? Google rebranded its PPC service as Google Ads on 24 July, 2018.
Why Do You Need a Specialist?
Businesses all across the world are advertising their products and services on Google. If you want to get to the top without blowing through your bank account, you need help.
There are indicators that your current marketing efforts are not as efficient as they could be.
What about these common problems?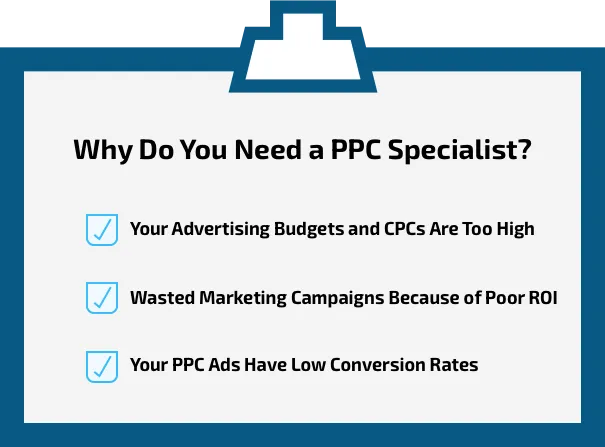 Your Advertising Budgets and CPCs Are Too High
What is your cost-per-click (CPC)? Is it higher than your competitors? Google CPC is directly affected by your ad rank, ad text, your competitors, and the keywords you are bidding on in your campaign.
If your ad quality score is too low, then you will be paying too much money for your ads.
How much could this cost your business? An average quality score of 5 on Google's benchmark score won't affect your price.
A low quality score can increase your costs by as much as 400%. Top quality ads receive discounts of up to 50%.
Check your Google quality score. If they are below average, then it's time to call in an expert to improve your ad copy.
Wasted Marketing Campaigns Because of Poor ROI
Connected to high costs is poor ROI. Paying too much for your ads leads directly to a poor return on investment because your cost per acquisition will be too high to make a profit.
Here are other reasons your ROI might be tanking:
Lack of thorough keyword research creates ads that don't reach the right audience.

Failure to use negative keywords leads to ads that trigger for the wrong keywords.
A specialist will have the expertise to create the right marketing strategy for your business goals. They will find the best keywords to target and avoid, so every click leads to revenue.
A PPC manager will run a successful campaign that mixes up phrase match keywords with more specific related keywords.

They'll monitor your Google auction results, key performance indicators, and respond fast when tweaks are needed to keep your ROI as high as possible.
Your PPC Ads Have Low Conversion Rates
Do you know how your conversion rates compare to others in your industry? Search ads and shopping ads have an average conversion rate of 4.40%. If your campaigns are below this rate, then you might want to look for more help.
What's the average conversion rate in your industry?
Apparel averages a conversion rate of just 2.77% while law and government ads convert at a rate of 7.45%.
This variability means you should check your conversion rates against your industry average. If your ads convert at a low rate, consult a specialist to optimise your ads.
If you haven't gotten as far as setting up conversion tracking and you don't test ad copy to improve your rates, then you should reach out to an expert.
Ready to review your campaigns and reach out to other advertisers?
Here are some questions to ask your next potential partner.
Ready to Hire? PPC Agency Top 5 Interview Questions
When you're ready, these PPC interview questions can help you separate the real professional agencies from those who are merely pretending to be experts.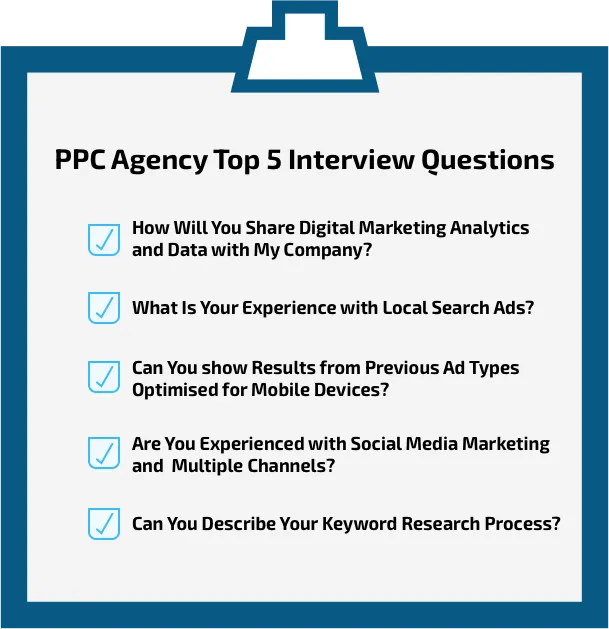 How Will You Share Digital Marketing Analytics and Data with My Company?
Experts know the real value of data and analytics. The only way to guarantee success is to test, tweak, and optimise. The foundation of testing is data analysis.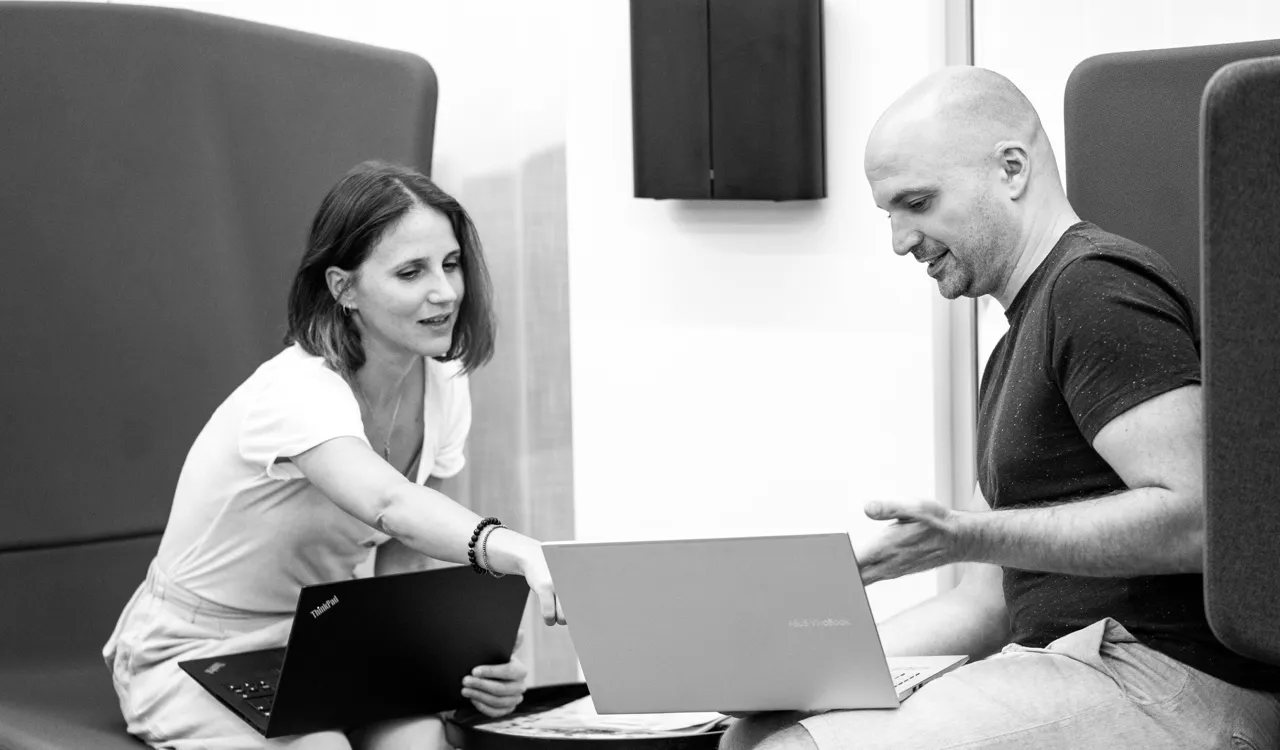 So you can ask a few PPC interview questions to get a better idea of what you'll get during the project:
Which tools do they use for data analysis? Google analytics, web analytics, and internal data are all important tools. If they can't demonstrate their results with specific data, run away.

How will they show you results? Google analytics connects to the Looker Studio or Google Data Studio , so a potential specialist should be able to show you clear reports. Without these, you'll struggle to understand your real ROI.

Will they give you independent access to the reports? We don't want to make any accusations, but you should be wary of anyone who won't let you see the unfiltered results. You should have access to the raw data from your digital marketing campaign because it is your money.
The quick way to summarise this is to ask for proof. Any potential advertising expert should be able to show you proof of their expertise.
What Is Your Experience with Local Search Ads?
Local search is incredibly lucrative for local businesses. 74% of in-store shoppers (who searched online before going to the shop) did a local search on mobile, for example closest store, opening hours, etc. All over the United Kingdom, people do their shopping and research on their mobile devices. Don't work with a "PPC specialist" who lacks expertise and experience in creating local search ads.
Again, we've got some questions you can ask:
Ask for results from previous local search campaigns. Every Google Ads expert keeps records - especially of their successes.

Invite them to explain their local search digital marketing strategy. Listen, and then ask questions until they convince you of their skills.

Request examples of their work. Many companies use landing pages designed for local search campaigns. Requesting samples will show you the quality of their work.
Plan for local search success to build revenue. Your potential digital marketing partner should be able to convince you of their local search marketing skills.
Can You show Results from Previous Google Ads Optimised for Mobile Devices?
Mobile search is the present and future of internet advertising. Every PPC expert should have a mastery of mobile advertising tactics and strategies.
Once again, here are questions you can ask a new consultant or advertising partner.
Can you show proof of results? Just like other types of advertising, your Google Ads expert should be able to show you evidence from previous projects.

Ask them to explain their mobile search strategy. Probe their plans for marketing your products and services to mobile device users.
Ads designed for mobile differ from desktop ads. The layouts are unique, text needs to be shortened, and the campaign should have mobile-focused goals like phone calls and site visits.
are you experienced with social media marketing and multiple channels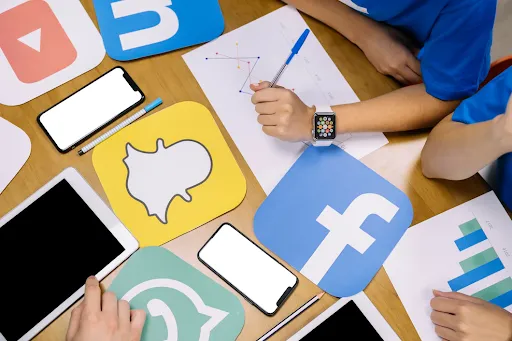 You may look for a Google Ads expert, but you should also consider a digital growth marketing agency that can run effective advertising campaigns on other channels. There are other search engines people don't think about, such as Amazon's search function.
Bing ads, Facebook advertising, Reddit, Instagram, and marketing through every other major social media outlet should all be possible for a genuine expert. Your Google campaigns might be more effective running alongside campaigns on other channels.
You should also consider the Google Display Network. This is a network of sites, apps, and videos where users can see your ad campaign. It is perfect as part of a remarketing campaign and can improve the efficiency of your ad spend.
You should evaluate how effective your potential PPC agency is at creating a landing page that works for ads running on different channels. Ask for examples and results. Driving traffic to a website from multiple sources is a clear sign of a marketing professional.
Can You Describe Your Keyword Research Process?
Your ad groups can target any number of keywords. One campaign may have multiple keyword clusters and focal points. Also, every campaign and ad group should have a comprehensive list of negative keywords to avoid your ads being triggered for searches that will never convert.
An effective PPC agency should be able to do thorough keyword and competitor research for their accounts. Here are PPC interview questions to ask them:
An effective PPC agency should be able to do thorough keyword research for their accounts. Here are questions to ask them:
Which tools do you use for keyword research? Search engine marketing, either through organic search or PPC ads, relies on understanding the keywords that bring people to your website. They should be able to tell you the tools they rely on for digging up the most effective keywords.

Can you show me some of your negative keywords lists? Many businesses guard their keywords and ad group targets very closely. However, your ad agency should be able to give you examples of how they avoid wasting clients' money.
What you're looking for is evidence of a Google PPC consultant that is thorough and detailed. Their keyword process and tools will tell you how much emphasis they place on good research. Working through these paid search interview questions and answers will help you separate the great partners from the pretenders.
What Factors Affect Your Choice of a PPC Agency?
There are really two big categories of factors you can work through when hiring a PPC agency.
First, you should consider what makes a good PPC expert. In short, an expert is someone whose answers to those five groups of questions satisfy your company's needs. Here's a quick recap of the characteristics of a good PPC agency:
They have an effective reporting process to keep you updated on progress.

You can see their effectiveness with local search ads through previous campaigns.

Their mobile optimisation is on point and easy to see.

Social media marketing and multiple channel ad campaigns are part of their work.

They can show you their keyword and competitor research process and results.
At a minimum, you should choose a company that can do all five of these things.
Second, your choice will be influenced by what you need the most. Here are some examples of what you might be looking for:
An eCommerce company may want to focus on keyword and competitor research rather than local search ads.

Local service businesses will want to focus on mobile ads and local search.
As we talk more about the strategies you can employ to get the best results, you can think through your specific needs and how they connect to the strengths of an agency. You may not need a full-service agency if you are only trying to focus on local search on mobile devices.
On the other hand, some ad agencies and clients use an identical ad mix for every instance. This isn't ideal. Instead, the advertising mix should always be customised according to the campaign targets.
Now, let's turn to those strategies to help you achieve optimum results.
Strategies for Getting the Most from Your Google Ads Expert
The consultant can be a valuable resource for your business, but how do you get the most out of them? The following are some strategies you can use for the best results.
Be Professional: Create a Goal and Plan for Your Website, Business, and Campaign
Without a goal, you will not know how to plan your PPC campaign. Take time to evaluate your goals.
How many new clients or orders do you need?

What is your timeline for results?

Is Google your best advertising channel or should you consider Facebook or social media?
You can discuss your PPC strategy and goals with your advertising partner. They should help you create a number of approaches to achieving the results you want.
Talk to the PPC Consultant
You should try to share as much information with the PPC expert as possible.
A good PPC company can think globally and can recommend promotions and new opportunities, but only if they understand your company's long-term goals. Getting to know the customer base better also helps find new niche target audiences, new keywords, and advertising platforms.
Some businesses think they shouldn't share too much information because it feels irrelevant. But it is better to share too much than too little. What is irrelevant information on one platform, such as Google Ads, might be highly relevant on another platform like TikTok or Facebook.
Listen to the PPC Experts
There is little point in paying an expert if you don't follow their recommendations. Once you've done all this research and evaluation, don't ignore their advice. Listen to them and be prepared to follow their suggestions.
It's important to remember their reputation is at stake. They want to get significant results from your projects because that's how they will continue to build their PPC agency.
Pay for a Professional and Create the Right Budget for Results
Let's talk money for a moment. How much does a PPC agency cost in the United Kingdom? The answer is, of course, that it varies. Your consultant will charge you based on the size of your account and the time involved.
Here's what doesn't vary:
You get what you pay for.
If you hire a PPC agency on the cheap, you might be disappointed with the results. Likewise, if you under-fund your advertising campaigns, you will miss out on potential customers because your budget runs out.
Optimum Click is Your Partner for PPC Campaigns in the United Kingdom
Optimum Click is an established PPC company with clients all over the world. Our team has years of experience operating successful PPC projects. The team is large enough to manage major projects, but not so big that your account will be lost.
Here are reasons Optimum Click is your best choice:
We strike the right balance between efficient automation and the insights gained from real experience.

We develop your entire campaign, not just tweak ad settings. We'll suggest new landing pages, audiences to target, and possible changes to your website.

We provide clear and actionable reporting to help you understand your expenditure and revenue.

We utilise a proven and effective on-boarding document to make sure we understand your goals and requirements.
If you're ready to take your advertising to the next level, contact us to get started.
We offer a free PPC audit worth at least £1000 for new clients. Your free audit will show you the strengths and weaknesses of your current advertising. We'll work with you to expand on your strengths and improve any weak spots. We'll also unlock new potential with our expert insights.
Serious online marketing for serious online sales